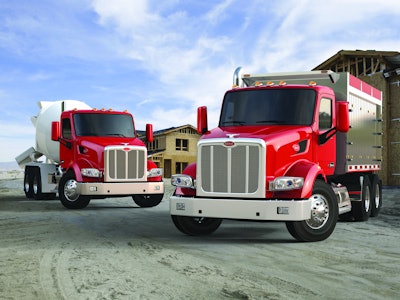 Peterbilt Motors Company announced it will be unveiling a major new product configuration ideal for concrete contractors and other weight-conscious applications during the World of Concrete show in Las Vegas, February 2-6.
Peterbilt Marketing Manager for Vocational Products Charles Cook said the to-be-introduced vehicle will be equipped with a PACCAR PX-9 engine, an Allison automatic transmission with FuelSense technology and a McNeilus mixer body.
"Peterbilt's Model 567 has been in production for just over a year and it's already far surpassing our high expectations for it," Cook said. "It's helping customers across a wide range of applications achieve new levels of productivity. We're pleased to expand its versatility and utility ever further with a new configuration designed with mixer and other weight-sensitive applications in mind."
Peterbilt will have two other trucks on display in its exhibit in booth C5172 in the Central Hall:
A Model 567 with a 115-inch BBC, set-back axle, PACCAR MX-13 engine, Allison automatic transmission with FuelSense technology and a Beck mixer body.
A low-cab forward Model 320 with a Cummins ISX12 engine, Fuller 10-speed transmission and a Schwing concrete pumper body.