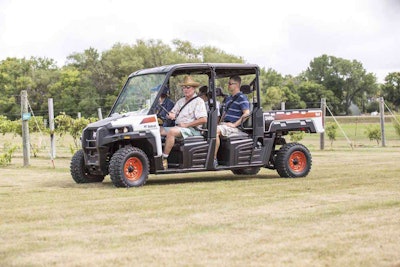 [imagebrowser id=163]
Bobcat's 2015 3400 and 3400XL four-wheel-drive utility vehicles are launching with improved suspension systems, faster travel speeds and new payload and towing specs.
These new UTVs can be spec'ed with either a 40-horsepower gasoline or a 24-horsepower diesel engine. The gas burners come with electronic fuel injection and the diesel units have glow plugs for easier cold-weather start ups. Top travel speed is 40 mph with a dealer installed kit.
Both units offer a 1,250 pound payload capacity and a cargo box that is 7 inches longer than previous models. Standard manual or optional hydraulic dump levers are available. Both models offer an optional snow blade that connects with a winch kit, and a 60-pound sprayer can be mounted in the machine's cargo box.
With the four-wheel drive system you can shift on the fly to adjust to different ground conditions. A standard skid plate and constant velocity shield and an optional brush guard protect the undercarriages, transmissions, engines and radiators from ground level dangers.
The new suspension system keeps all four tires on the ground for improved traction and handling. An adjustable, independent, dual A-arm suspension controls the front wheel. In the rear, an adjustable de Dion multi-link suspension smoothes out the ride. The turning radius is tighter than previous Bobcat UVs and you also have increased payload capacity and stability when towing.
You can convert the new Bobcat 3400 and 3400XL from open to enclosed modular cab in minutes thanks to front and rear windows and a roof (canvas or hard top) that can be easily installed or removed.