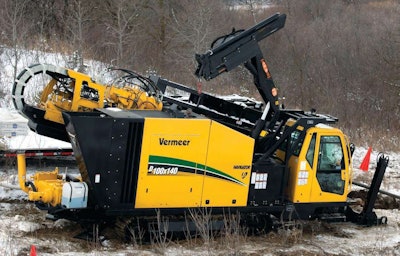 Vermeer's Navigator horizontal directional drill is the first Tier 4 Final drill to hit the pipeline market, as the company has upgraded the D100x140 S3's engine to a 275-horsepower Cat diesel that meets emissions standards while providing 100,000 pounds of thrust/pullback, 14,000 foot-pounds of rotational torque and 203 rpm rotations speed.
With two Firestick drill rod options—15 and 20 feet—the Navigator handles a range of jobs. The 15-foot rod option is useful for jobsites that need a machine with a smaller footprint, while contractors looking for max on-board rod footage whould choose the 20-foot rod. Both rods have one-piece construction, and stackable rod boxes with a single pin design and auto lock enable loading an additional rod from an upper rod box. An on-board knuckle boom crane is available as an option, and provides the ability to add rod boxes.
The D100x140 S3 features the DigiTrak Aurora display—a touch screen interface for horizontal drilling. The display has real-time locate information, allowing the operator to better monitor drill performance. The drill's InSite asset management system, available as an option, provides real-time machine data delivered via multiple platforms, such as tablets or other mobile devices.
Service is made simple via a pivoting swing-out door that allows for easy access to hydraulic components, and a flip-up panel accesses the engine bay. A separate enclosure contains the battery, fuses and controller. Steel tracks ensure long wear life.