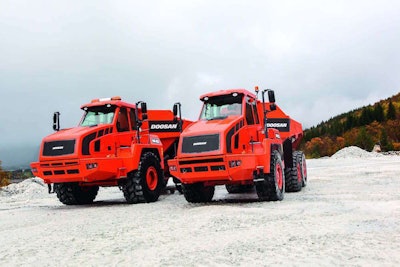 [imagebrowser id=153]
With the 365-net-horsepower DA30-5 and 490-net-horsepower DA40-5, Doosan has launched two new articulated dump trucks featuring fuel-efficient Scania DC9 and DC13 engines, respectively. The 51,588-pound DA30-5 has a 61,729-pound payload rating with a 23.3-cubic-yard heaped capacity, 9-foot, 10-inch loading height and a maximum speed of 36 mph. The 71,107-pound DA40-5 has a payload rating of 88,185 pounds, a 34-cubic-yard heaped capacity, a 10-foot, 8-inch loading height and maximum speed of 33 mph.
Configured with a high-pressure common-rail fuel delivery system, cooled exhaust gas recirculation, selective catalyst reduction and a diesel oxidation catalyst, the 28- and 40-metric-ton weight class trucks use diesel exhaust fluid injected into the exhaust system to transform NOx into water and nitrogen.
The trucks have a new mass airflow sensor and exhaust brake that work together to reduce emissions. The mass airflow sensor improves airflow management and optimizes fuel delivery, while the exhaust brake maintains consistency in engine temperatures at lower engine speeds, reducing harmful emission levels.
Fuel efficiency testing for the trucks has been recorded at an average of just 4.49 gallons per hour for the DA40-5, and 3.96 gallons per hour for the DA30-5. The DA40-5 also has a new bolt-on rear differential, and improved gear ratios that deliver reduced axle speed, longer component life and lower fuel consumption. Vibration has also been reduced.
Additional features also include a front-mounted turning ring that keeps all six axle wheels in contact with the ground at max turning angle; a sloping rear frame that lowers the center of gravity for equal weight distribution and improved stability; a tandem rear bogey that boosts traction in uneven terrain with less power loss; and an independent front suspension that boosts operator comfort on rough terrain.
Cab features include a sloping hood style that improves operator visibility; rearview mirrors that provide operators with a view of the center tires; a rear camera; standard heat and air conditioning; precise steering; ergonomic controls; air suspension seats and low noise levels. Both models have a standard gradient meter.
Serviceability is made simple via a tilting cab that provides service technicians with access to all major components in less than five minutes. The trucks have just three wear parts on the rear frame, and they are greased by an automatic lubrication system that is managed by the vehicle's control unit.