Significant changes are taking place in over-the-road trucking industry, changes that contractors will also see. Some are inherent in new designs. Others will require careful consideration if contractors are to receive maximum benefit.
The first step to making the most of these changes is to recognize whether most of your truck fleet is an integral part of the production process—such as those used in quarries, paving and site prep – or used primarily to transport revenue-producing equipment to the site. If used for transport, costs will be allocated across several jobs or sites. The impact of reduced costs varies depending on whether costs are assigned to a single project or several projects and may influence whether higher initial costs for some advanced features will have an acceptable payback period.
Here are seven over-the-road trends that may impact your trucking operations.
"Value" trucks
Several OEMs offer models devoid of all but necessary components and are fully-optioned models appealing to owner-operators. The comfort and operational features of these models falls between entry-level and highly-optioned trucks, as does their pricing.
David Hillman, vice president and general manager of vocational products at Navistar, says the first question in assessing the real value of value trucks is whether there's a lifetime benefit. If the features will continue to deliver satisfaction, they will continue to deliver value. But keep in mind, Hillman says, one benefit of slightly upscale specs is they may help with driver retention. Charles Cook, marketing manager for vocational products at Peterbilt, agrees. "Recruiting, training and retaining drivers is expensive. Losing one because the seat was uncomfortable or the ride quality was poor is a costly loss."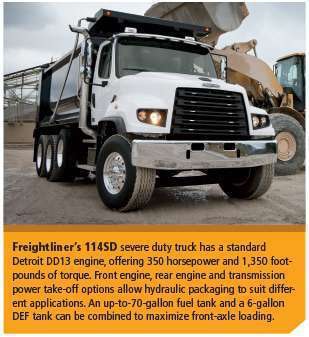 But "value" is a relative term, says Stu Russoli, Mack vocational product manager, and needs to be looked at as a business case that includes upfront price, repairs, maintenance and use costs and resale value. "The truck needs to carry your equipment or load to and from the job with the lowest cost during its lifetime," he says. In this analysis, value moves from comfort and convenience features to the underpinnings of the truck. He says some medium-duty Class 5 and 6 trucks are built up to Class 7 or 8 specs. They have the cab, frame and crossmembers of their medium-duty origins but are fitted with higher-rated axles, suspensions, engines and transmissions. "These trucks are rated to legally carry the load, but they may not withstand the demands of continual Class 8 use." He says one option is to buy a Class 8 truck with a smaller engine and transmission but still built to handle the rigors of Class 8 applications.
Kenworth takes a different approach, according to Kurt Swihart, Kenworth marketing director. "Although we do offer some packages, we rely more heavily on customization, spec'ing a truck to meet a customer's specific requirements. In this sense, any truck can be a 'value' truck."
SuperTruck
Prompted by the U.S. Office of Energy Efficiency and Renewable Energy, the SuperTruck initiative seeks a 50 percent improvement in freight efficiency, measured by ton-miles per unit of fuel. The system approach includes high-efficiency powertrains, reduction in drag and parasitic loads, reduced rolling resistance, and other strategies. At times it seems to be mostly conceptual, another government program with little influence in the real world. Yet there are elements of SuperTruck that will work their way into the market.
Dave Schmitz, vocational truck product manager at Caterpillar, emphasizes that SuperTruck targets traditional over-the-road trucking. "The SuperTruck initiative has direct implications on the construction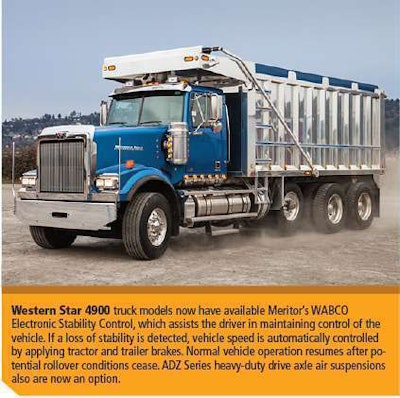 market, but let's be clear that the value equation is drastically different. Construction vehicles run one-quarter to one-half the annual miles their line haul counterparts do, so the pay-back period for the technology will be much longer. The level of complexity involved goes up with vocational trucks given the variety of truck, body and load configurations compared to the traditional line haul dry van.
"With vocational trucks, average speeds tend to be lower so the possible gains of some SuperTruck technologies related to drag are less significant," Schmitz continues. "Combine the lower speeds with the varied configurations found in the construction market such as low-boys, mixers and a multitude of dump bodies, and you'll see where it is difficult to take advantage of reduced wind resistance or drag. However, some Super Truck strategies, including smooth bodies instead of ribs, cab extenders and side skirts, are being used in other parts of the world such as on European vocational trucks."
Schmitz provides a summary of ways SuperTruck concepts can be applied to vocational trucks:
Freight efficiency would increase with a reduction in the weight of the truck and body/trailer combination. Selecting a 13-liter engine over a 15 liter can save around 1,000 pounds. Choosing lightweight but durable body and lift system can further reduce weight.
Parasitic losses should be managed by running engine-driven components (oil pump, fuel pump, water pump, air compressor, AC compressor, alternator and fan) only as needed.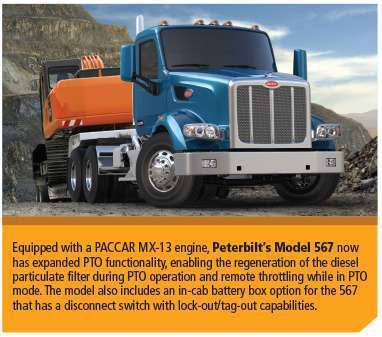 Improving aerodynamics requires better air flow around the sides and top of the unit and stopping air from going under the truck and trailer. Getting air cleaners and exhaust components out of the air stream can help.
Rolling resistance is caused mostly by tire deflection and is affected by the road surface. Tire manufacturers have been making improvements in this area.
Powertrain efficiency has been improving for years with increasing fuel injection pressures, variable valve timing, and electronic controls. Attention is moving to better integration of the engine and transmission with intelligent shift strategies.
Reduced idling is part of the SuperTruck approach, but fuel management goes beyond idling to include transient (driving) fuel, regen fuel and PTO fuel. These can all be monitored through telematics and should be actively managed.
Downsizing
Downsizing refers to the movement to smaller displacement engines. Because power density (power production per unit of displacement) is up, customers find they can go with a smaller engine, saving weight with no loss in performance. Many in the market refer to this as "right-sizing."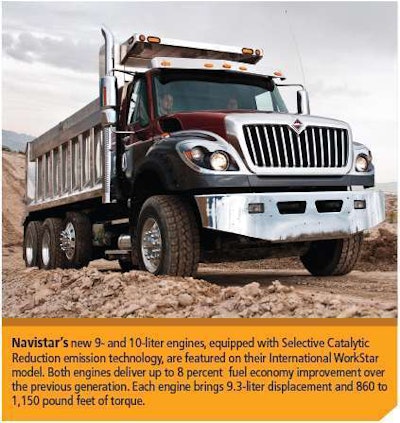 "The age of the 13 liter is here," says Swihart. He says choosing a 13-liter engine over a 15 liter can save at least 300 pounds on the engine alone. Combine that engine with shorter frame rails, a more compact engine bay and the total weight savings can be significantly higher. Yet today's 13-liter engines have power and torque numbers comparable to 15-liter engines of just a few years ago.
There are a few uses where a 15-liter engine is still the right choice, Swihart says, but most of those are in stationary applications, such as oilfield servicing and gensets used for primary power, where the higher displacement proves more robust in the face of continuous high demand. And Mary Aufdemberg, director of product marketing for Freightliner Trucks, emphasizes that there are many heavy haul applications for 15-liter engines. Examples include long-haul with over 100,000 miles per year, heavy haul above 80,000 pounds, and routes that are mountainous.
Downspeeding
When trucks are geared to run at lower engine speeds for a given travel speed, this saves fuel and reduces engine wear. The key is to match the engine speed with the engine's torque output.
"There are sweet spots of operation for every engine where the engine operates more efficiently and saves fuel," says John Felder, Volvo Trucks product marketing manager. "Downspeeding means driving to the torque curve of the engine. So contractors should start by giving careful consideration to the engine's torque curve when spec'ing a truck."
The rest of the drivetrain needs to be matched to that engine for downspeeding to work. Aufdemberg says, "Downspeeding is a changing dynamic where downsped engines are matched to automated or automatic transmissions that are in turn mated to faster axle ratios. Engines are often teamed with direct drive transmissions to make powertrains more efficient. For on-highway applications, for example, we offer a Detroit powertrain with a downsped engine, direct drive automated manual transmission, and a 6×2 axle with a 2.28 ratio."
Catch-all
There are a number of other factors affecting the heavy truck market including greenhouse gas regulations, natural gas and hybrid drives, and waste heat recovery.
The first round of greenhouse gas (GHG) emissions went into effect this year. The emphasis is on the carbon impact of the truck as a whole, and the key to meeting this first round of emissions has been to reduce
fuel consumption and thereby reduce carbon output. "Every engine manufacturer is now certified for GHG14," says Aufdemberg. "No one has to use hard speed limiters to be certified." (There was concern that in order to meet the standards, speed limiters would be required to reduce fuel consumption by capping maximum speeds.)
"GHG17 is just around the corner," Aufdemberg adds, "and it will bring even greater fuel efficiency to our industry. The products are delivering as promised, providing better fuel efficiency and better performance over any previous emissions regulation solutions."
Hillman, from Navistar, provides a summary these fuel related topics. There are pros and cons to different technology pathways and they're heavily dependent upon application. CNG, for example, shines in refuse applications. LNG, with its infrastructure, cooling and storage challenges, may be where CNG was 10 or 12 years ago. Hybrids need government subsidies to be viable. CNG is now outpacing both LNG and hybrids, he says.
Painless body building
Given the increasing complexity of trucks, what assurances do customers have that body builders' and upfitters' installs won't conflict with truck OE systems?
As electronic control and monitoring spreads beyond the engine bay, even minor changes can wreak havoc if done incorrectly.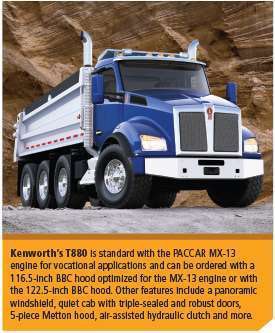 All of the OEMs say they go to great lengths to ensure that aftermarket companies have access points to electrical systems and the information they need to safely add bodies and systems. Each has staff to assist with spec'ing trucks with bodies and upfits in mind from the start. Some offer software so suppliers can configure their products; other have online tools to accomplish the same thing. Regardless of the approach, says Felder, "it's always best for customers to communicate their exact requirements when ordering a new vehicle." Owners wishing to modify used trucks should consult the OEM's resources.
Telematics
Acceptance of telematics is spotty in construction despite fervent attempts by OEMs to sell the feature. What value do telematics offer on trucks, where they are long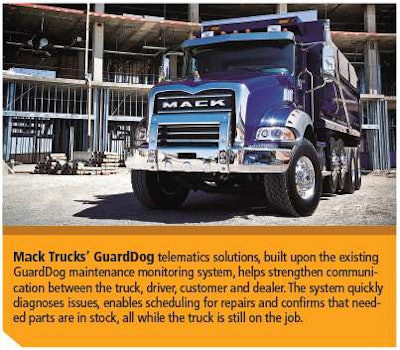 established?
"Before remote diagnostics," says Aufdemberg, "many drivers would simply park the truck in order to avoid a potentially catastrophic engine failure when they saw a fault lamp illuminate in the dash. Telematics such as our Detroit Virtual Technician instantly identify the severity of a fault event and eight out of ten times the vehicle can continue until service can be scheduled. Insight into the severity of the fault and detailed diagnosis can prevent downtime and tow charges and facilitate timely, educated repair decisions. Avoiding even a single downtime event saves a typical fleet more than three times the annual cost of the service. And, since the majority of fault events do not require immediate attention, the customer can combine multiple non-urgent issues into one arranged service visit, further minimizing unnecessary downtime for the user."
Felder summarized the benefits by saying, "Telematics, such as Volvo's Remote Diagnostics, have the ability to turn unplanned events into planned events."