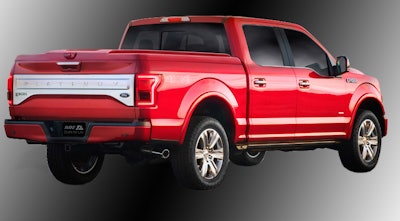 Even though the 2015 F-150 hasn't hit dealership lots yet, truck cap and tonneau cover maker A.R.E. has already made its aerodynamic, custom-fitted LSII Series fiberglass tonneau cover available for the highly anticipated pickup.
A.R.E.'s LSII Series is designed to be a lightweight and durable worktop for the new F-150, contributing even more gas mileage savings to the truck's already fuel-effcient aluminum body by creating a more streamlined airflow compared to an open truck bed.
The cover features a sleek design with an OEM-quality lock and latch system and an exclusive lift assist system for easy opening and closing. Equipped with a painted palm-grip handle, the cover is easy to open and close and creates a secure, weatherproof storage area in the truck bed.
A key lock is standard, and optional equipment includes a battery-operated dome light, sport wing and remote keyless entry system.
A.R.E backs the LSII and its painted finish with a limited lifetime warranty for the life of the original pickup truck it is installed on.
The cover is available to order now at 4are.com.