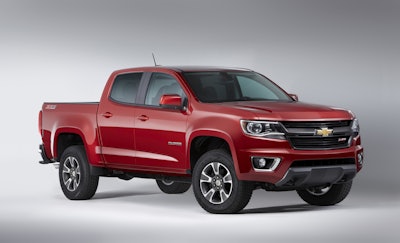 It's been three months since we saw a General Motors pickup truck recall despite the fact that the automaker has issued 71 recalls this year affecting about 30 million vehicles globally. Now, in the last few days, the automaker has issued two more, one of which affects the company's much-hyped redesigned midsize pickups before they've even hit the lots of many U.S. dealerships.
According to a report from Automotive News, GM sent a note to dealers instructing them to halt deliveries of the 2015 Chevrolet Colorado and GMC Canyon due to a pending recall over an airbag defect. GM told dealers that the driver-side airbag connections in the new midsize pickups "were wired incorrectly during the manufacturing process" which could prevent them from deploying in the event of a crash.
GM says it is working on a software patch that will fix the problem and instructed dealers to only continue deliveries of the new pickups to customers after that patch has been installed.
RELATED: FIRST DRIVE: 2015 Chevrolet Colorado 2.5L offers a nimble, fuel-sipping ride
It appears that GM mostly got out in front of the issue before the vast majority of the trucks got into the hands of customers. A GM spokesperson told Automotive News that only 49 of the trucks had been delivered to customers.
In a separate recall, GM has said that 2013-2014 model year Chevrolet Silverado HD and GMC Sierra HD pickups could be affected by a faulty chassis control module. It's unclear how many Silverado HD and Sierra HD pickups have been recalled as they are part of a larger recall of 117,651 GM vehicles sold in the U.S.
GM says the affected trucks could fail to start due to metallic slivers causing a short within the control module. Symptom of the the defect include the check engine or "service trailer brake" messages appearing on the trucks' information centers.
This recall has not officially begun as replacement parts aren't yet available for dealers. GM is not aware of any crashes, injuries or deaths associated with the defect.