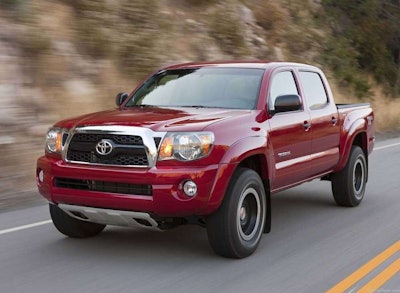 Toyota has issued a recall on approximately 690,000 Tacoma midsize pickups due to a defect that could cause the trucks' rear suspension to fracture.
The automaker is recalling Tacoma 4×4 and Pre-Runner pickups made between 2005 and 2011 due to the possibility that one of the three or four leaf springs in the trucks' rear suspension could "fracture due to stress and corrosion."
Once that happens the fractured spring could move and puncture surrounding components—including the fuel tank. Toyota says the spring could puncture the fuel tank "repeatedly," causing a fuel leak which could result in a fire.
So far, Toyota is not aware of any fires, crashes, injuries or deaths related to the defect. The automaker is sending a recall notice via mail to affected owners and will repair the suspension at dealerships at no cost.
Tacoma owners can visit toyota.com/recall or call 1-800-331-4331 for more information on the recall.
The recall comes roughly two weeks after Toyota announced separate recalls on 130,000 Tundra CrewMax and double cab pickups as well as 20,000 Tacoma pickups and FJ Cruiser SUVs. The Tundra recall was due to a defect that could interfere with the truck's side curtain airbags. The Tacoma/FJ Cruiser recall was due to tire concerns.