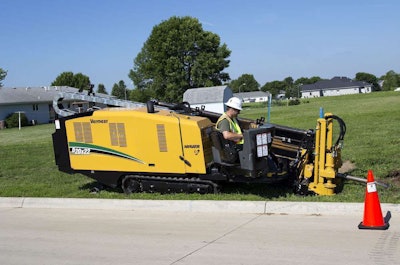 [imagebrowser id=111]
Handle demanding jobs on tight jobsites with Vermeer's new D20x22 S3 Navigator HDD, which features a small footprint combined with large machine performance.
Suitable for utility installation, the drill offers precision control combined with powerful performance in one unit.
Compared to the previous D16X20 Series II Navigator HD, the D20x22 S3 12 percent more powerful thanks to a 74-horsepower Deutz engine, which delivers 19,550 pounds of thrust/pullback with 2,200 foot-pounds of torque.
The Tier 4 final machine also has a new hydraulic system that allows for better use of the engine's horsepower, as well as featuring improvements in rotation, thrust and tracking performance. Carriage speed has also been increased to 167 feet per minute, and tracking power and speed has been boosted to enable the drill to make sharp turns, climb slopes and track up to 3.3 mph.
The drill's common control system, also used on larger Vermeer drills, has a digital display and improved onboard diagnostics. The system uses less wiring and fewer fuses. The drill's noise level output has also been reducing, making the drill useful for urban applications.