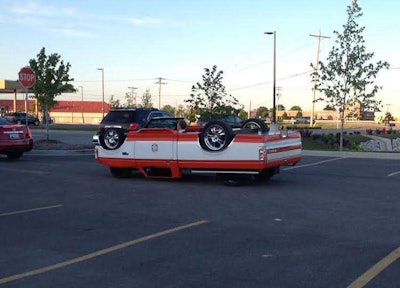 This has to be the coolest pickup truck modification I can think of in…I don't know…ever?
A couple of weeks ago, Reddit user diddletheskittle posted the image you see below with the simple headline "This car is upside down." Forgiving Mr. Theskittle that this is obviously a truck, we unfortunately have no other information to go on about this mod. As for the second picture of the upside down truck being driven that you see above, it was posted in the comments of the original Reddit post by user NotTheOneToo who's father saw it cursing around.
It does raise a lot of questions though like is it still technically a truck? Did he keep the F-150's engine and transmission or are we looking at a lifted car with an upside down truck body? Personally, I'd argue that since this thing doesn't look like it has a bed anymore, it's a glorified convertible.
What's your take? Car? Truck? Abomination? Let us know in the comments.
UPDATE: Equipment World commenter RussellStare has shed quite a bit of light on this whole situation. Apparently, this truck is the creation of Rick Sullivan in Clinton, Illinois. Russell says Rick works at Kathy's Collision Center there and that the truck's top wheels actually spin while it's being driven and are powered by independent electric motors. We're going to reach out to Rick to see if we can get some more information. Thanks for the info Russell!