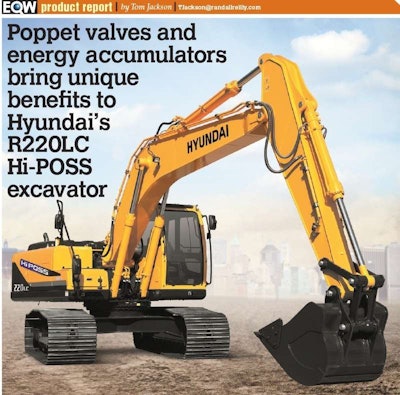 One of the more intriguing equipment technologies to come out of ConExpo 2014 was Hyundai's Hi-POSS system. (Hyundai Intelligent Power Optimal Sharing and Energy Saving).
The company emphasizes that the model shown at ConExpo was a prototype and production models are not currently available. But the machine is being field tested in Korea now and according to the company the technology can result in fuel savings of 20 percent or more and in a more precise and effective machine operation.
Savings two ways
There are two parts to the system, says Todd Johnson, CE district manager at Hyundai Construction Equipment Americas. "The first is the accumulator system – two large, nitrogen-filled accumulators under the frame," he says. "These capture the regenerative braking energy of each function, whether its boom down or cab swing stop or bucket out. Then they release that energy back into the function."
The second part of the system is an electronically controlled series of poppet valves that regulate hydraulic flow and pressure. "In a traditional excavator, control is provided by spool valves, one spool for each function. We're replacing that with a series of 20 poppet valves, electronically controlled, and each function on the machine can be activated by multiple valves."
Precision hydraulics
The beauty of a series of poppet valves, Johnson explains, is that they can deliver extremely precise amounts of hydraulic pressure and flow. The valves are simple open-and-shut devices, but each valve has a specific flow and pressure. Some produce small amounts, others large amounts.
"When a guy wants to feather the controls, one valve will open. If he wants a bit more, two valves will open," Johnson says. For the heaviest applications, a computer controlled sequence of valves would open or all 20 valves might open.
"That makes it easy to operate, and eliminates the need for relief," Johnson says. "We're not generating extra oil that has to go in the relief valve and back into the tank and that makes the machine more efficient." Not having to push the oil though a small relief valve improves fuel efficiency, reduces noise and heat build up and helps hydraulic fluid last longer.
Pressure settings
The poppet system can also make it easier to work with attachments and the auxiliary system. On traditional excavators flow is easy to adjust, but changing pressure settings often requires the operator to manually set relief valves. "Most people don't mess with it," Johnson says. "But with this system I can select the flow and pressure from the cab without doing anything other than punching some buttons."
Hyundai is also exploring the potential of using remote control with the Hi-POSS excavator system. On a traditional excavator the operator must have a good feel for the controls to feather the bucket and do precise work. With the poppet valve system that kind of finesse and feel can be replicated electronically through the machine's computer system.
"Our vision is that someday at a quarry or mine site an operator can sit in a remote building and run the machine from a computer screen," Johnson says.
Although the model shown at ConExpo was a 20-ton machine, the first production versions will likely be 30- or 40-ton excavators.