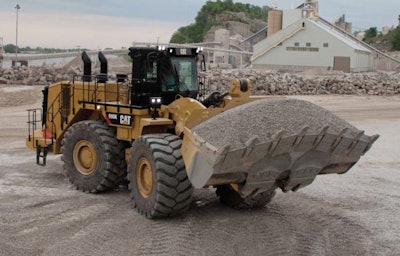 [imagebrowser id=84]
Caterpillar has unveiled its latest wheel loader, replacing the 990H with the new, more powerful and more comfortable 990K.
Cat increased the payload of the loader from 16.5 tons to 17.5 tons and says it pairs nicely with the 773, 775 and 777 construction and mining trucks. (In order to load the 777, the 990K needs the optional high lift linkage.) The 990K can fully load the 775G in just four passes.
Cat is also offering Performance Series buckets with the loader, ranging in capacity from 11.25 to 13 cubic yards.
The updated wheel loader is powered by Cat's Tier 4 Final C27 ACERT engine with 699 horsepower—a boost of 11 percent over the 990H. The good news is that the boost in power doesn't effect the loader's fuel economy thanks to lower engine speeds and an impeller clutch torque converter which uses a lock-up clutch to provide direct drive.
The torque converter reduces engine heat and allows operators to balance rim pull and hydraulic power. Cat says this can lower cost per ton by reducing tire slippage and wear by regulating rim pull from 100 to 25 percent while the left pedal is depressed. After 25 percent rim pull is met, the left pedal applies the brake.
The 990K's new ECO Mode with on-demand throttle provides additional fuel savings as well as an engine-idle shutdown system and an engine-idle kickdown/auto-resume system.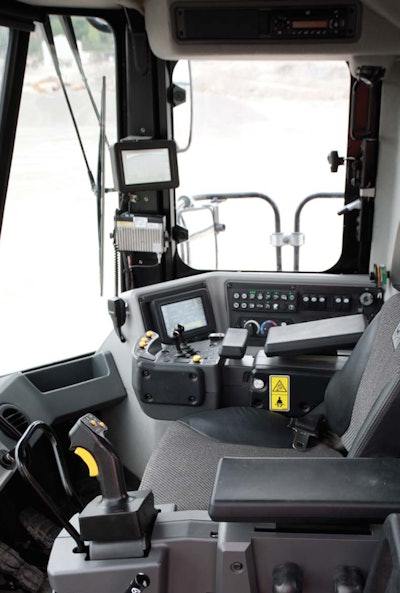 Cat also redesigned the cab of the 990, making it quieter with a sound level of 69.9 dB(A) and adding the Cat Comfort III seat with integrated controls. The loader also features Cat's Steering and Transmission Integrated Control (STIC) which combines gear selection and steering into a single lever.
The new cab also features a more robust information display, showing a cycle timer and a real-time payload weighing system. The display can be customized by each operator of the machine and settings are saved to a profile for each operator.
Operators can check their surroundings in the 990K with a rearview camera and an optional object detection system.
The machine features a remote panel with a stairway light switch, engine shutdown switch and lockouts for the transmission and engine starter. A second panel gives easy access to the battery disconnect and jump-start.
Routine maintenance ports, including the hydraulic pressure taps and oil sampling ports, can be easily accessed.
A ground level service center that displays fluid level, provides a port for diagnostic work and houses drain-and-fill ports can be added as an option.