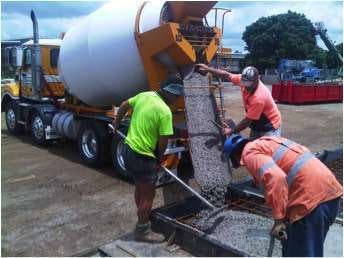 Should a few major trials hold up as expected, an Australian family company will have succeeded in developing a new concrete that is not only better for the environment but stronger than the traditional formula as well.
The construction materials and mining services company Wagners of Toowoomba, Australia, has spent the last eight years perfecting a new formula for concrete that replaces Portland cement with fly ash and slag. These key ingredients are recycled from the blast furnaces in iron manufacturing as well as coal-fired power plants, according to a report from Business Review Weekly.
The fly ash and slag are combined with a proprietary combination of chemical activators to form a geoplymer binder in what the company calls Earth Friendly Concrete (EFC), BRW reports.
The result is a concrete that's not only stronger, the Wagners say, but also of great interest to those in the Middle East where soils corrode the limestone clanker in Portland cement due to the high amounts of sulphate and chlorides.
Replacing the 200-year-old Portland cement formula for concrete is what several "earth friendly" concrete formulas have attempted to do in recent years because the cement's manufacture contributes a great deal to carbon dioxide emissions. Paulo Monteiro, a researcher professor of civil and environmental engineering at the University of California, said last year that "Portland cement accounts for 7 percent of the carbon dioxide that industry puts into the air."
Wagners company chairman John Wagner called traditional concrete "the biggest polluter in the world."
Monteiro is part of a research team that developed another concrete formula that replaces Portland cement with lyme and volcanic ash—an ancient Roman recipe. That team said their concrete was stronger than the traditional formula too, but there are currently no examples of major infrastructure to test those claims on.
And that's why the Wagner family is so far ahead. They built a whole airport using EFC, using 30,000 cubic meters of the concrete. Joe Wagner, one of the four brothers who runs the company told BRW that the concrete is strong enough to support any aircraft flying today.
EFC is also being tested in the form of pre-cast tunnel segments in the soils of Malaysia, Doha and Qatr. The Wagners say EFC is perfect for tunnels because due to its "flexural strength and low shrinkage."
The Wagners are so confident in their new formula that they're not even going to patent it, saying the patent itself would give away too much of the the formula's ingredients to competitors.