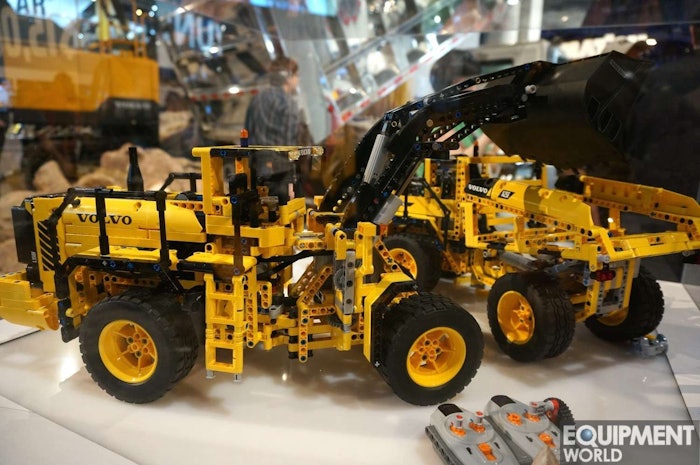 [imagebrowser id=41]
Just like all of their competitors at ConExpo, Volvo Construction Equipment had all their biggest and best heavy equipment on display. Unlike their competitors, two of those machines were made of Legos.
Over an eight-month period last year, Volvo CE and Lego worked together to form a Lego set that could build a Volvo machine. The result is a Technic set that will build a working L350F wheel loader. Plus, the loader can be disassembled and the some 1,600 bricks and other parts can be reassembled as an A25F articulated hauler.
But here's the kicker: the Lego L350F can actually get a bit of work done. Volvo representatives at ConExpo said the Lego machine can lift up to 2.2 pounds in its bucket, which is the largest individual component Lego has built for a set. Plus, the model can load and steer even over rocky terrain. The model's pistons even move, the filters can be removed and the radiator swings out.
Lego said its engineers visited construction sites and operated both machines to understand their operation and come up with a Lego design.
The Technic set will be available in August. No price has been announced but Lego feels this could be the most popular Technic machine yet.