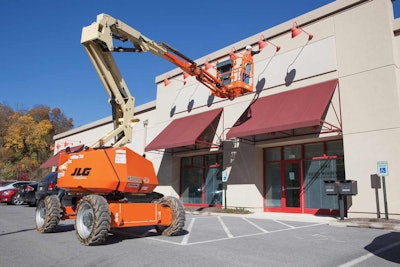 JLG Industries launched the very first four-wheel electric drive hybrid boom at ConExpo-Con/Agg 2014.
The H340AJ, the first machine of its kind, combines diesel fuel and an electric power system to deliver a combination of power and durability with reduced operational costs.
With four independent electric-drive motors, the H340AJ offers performance that equals the machine's diesel powered alternative.
The unit uses 8 6-volt batteries that require less recharging time than lead acid batteries, and because the machine can run on all-electric power, less fuel is needed than an all-diesel machine.
"The H340AJ offers a lower cost of ownership over the long run because of the reduced operating costs," says Bill Dovey, product manager, Aerial Work Platforms.
The H340AJ features a 34-foot platform height, 17-foot up-and-over reach and 500-pound platform capacity.