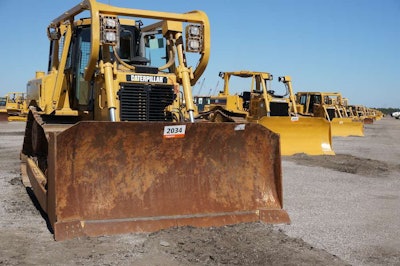 [imagebrowser id=30]
Each year, Ritchie Bros. Auctioneers sets up its own temporary version of Disney World in Orlando, Florida.
But, as the gallery above attests, this one's for equipment junkies.
The annual Orlando equipment auction is known as "The Big One" and is the largest equipment auction in the world. Folks come from across the globe to bid on equipment there. We attended this year's auction which runs from February 17-22 and features 200 acres of auction yard and 9,000 auction lots including 252 wheel loaders and 178 dozers.
To meet the crowds, many of whom are first-time bidders, Ritchie Bros. sets up several how-to-bid sessions throughout the 6-day auction and brings in more than 100 temporary employees. That's in addition to the 30-person staff roaming the yard, the 31 detailed equipment information staff and 12 customer service managers.
Steve Kriebel is the Orlando regional sales manager for Ritchie Bros. He says that once the auction is over it'll take about two months just to clear the yard. Kriebel says the highest amount of equipment ever sold at the auction was $200 million worth in 2012. This year, he said they expect to sell some where in the high $100 million range.
We took a VIP tour of the auction and grabbed a bunch of photos so you could get a taste of the experience. Check out the gallery above.