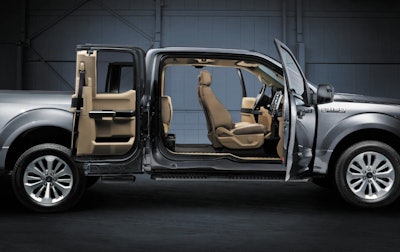 It might sound like an odd methodology, but at least Ford is paying attention to this kind of detail.
While developing the 2015 F-150, Ford wanted to address concerns it was hearing from some customers over the leather seats inside the current F-150. Over time, the leather covering many of these seats was cracking with wear.
Turns out, what Ford wasn't factoring into testing was dirt, according to a report from the Detroit News. Robots were stress testing the leather seats and the seats were meeting internal requirements, but robots don't wear dirty jeans like a lot of the folks that drive Ford trucks.
So Ford hired a firm to find a group of guys that weighed at least 265 pounds each and literally paid them to sit down and get up 10,000 times per test truck.
The test sitters sat and got up over and over for up to 10 hours a day in "scorching heat," the paper reports. And apparently, the firm Ford hired had to up their pay after some of the sitters noted their displeasure with the $60 or $70 per day they were being paid to sit and get up nonstop in scratchy, sweaty new jeans coated with dust. And the dust was recoated onto the seats every 500 sits.
So, when you sit in the 2015 F-150's new seats–which are 30 pounds lighter, made of higher-strength steel and covered with a tougher leather–take a moment and remember those selfless sitters who sat and sat and sat so you could sit in a better seat.