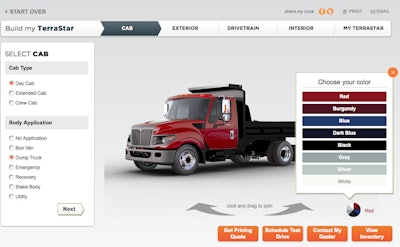 Navistar has launched new, re-designed online configurators for its International ProStar, DuraStar and TerraStar models, allowing customers to build their work truck to spec' and see what it will look like before requesting a quote or placing an order.
The online tool allows customers to design their trucks by choosing options for the truck's cab, exterior, interior, powertrain and more. As they make changes to the truck, a 3D model that can be rotated updates on screen.
Once customers have finished customizing, they can share their custom truck with friends on Twitter and Facebook, get a pricing quote, contact their local dealer or view new and used inventory matching the truck they have built.
"We've seen great engagement for the configurators in beta testing," said Bryan Sorensen, Navistar's director of digital marketing. "Traffic to InternationalTrucks.com has increased nearly 20 percent and users who engage with the tools are spending twice as long on the site compared to those who don't use the configurator."
Navistar plans to offer configurators for more International Class 4-8 commercial truck models including the WorkStar and LoneStar.
To build a ProStar, visit www.internationaltrucks.com/buildmyprostar. For the DuraStar configurator visit www.internationaltrucks.com/buildmydurastar. To build a TerraStar visit www.internationaltrucks.com/buildmyterrastar.