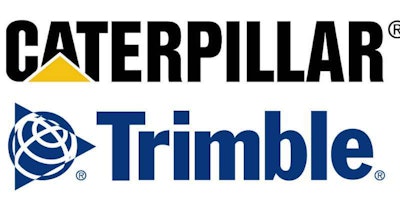 Building on a 18-year relationship, Caterpillar and Trimble announced today an enhanced partnership that will focus on "fleet management and site productivity across a contractor's entire equipment fleet, regardless of brand."
The agreement will expand the Cat Connect portfolio of products and services, which Cat says leverages telematics connectivity to more than 250,000 Cat machines globally, monitoring fuel consumption, productivity, availability and machine health.
The intent now is that machine information from other brands can be incorporated into the Cat/Trimble system.
"The agreements demonstrate both companies' commitment to providing a brand agnostic information solution to contractors with mixed equipment fleets," says Bryn Fosburgh, vice president responsible for Trimble's construction technology divisions.
Working through Cat's VisionLink suite, the solution will "integrate a wide range of site and machine information elements to give customers a holistic view of their site," Fosburgh says. No further details were given.
Contractors have expressed frustration that current telematic systems are fractured and brand-specific. In a commenting on a recent Association of Equipment Management Professionals telematics survey, Stan Orr, association president, said: "OEMs are the taproot of telematics capabilities for most fleets … however, they are also the primary source of frustration, for their inconsistent and often challenging approaches to telematics success … Each manufacturer does it in a different way."
Survey respondents, made up of AEMP's membership of heavy equipment fleet managers, said they only use telematics on 1 to 10 percent of their machines.
Despite the frustrations, contractors are aware there are rewards in mining telematics data. Based on registrations, "Making a Business Case for Telematics Regardless of Your Fleet Size" is one of the top four most popular sessions in the upcoming ConExpo-Con/Agg trade show.