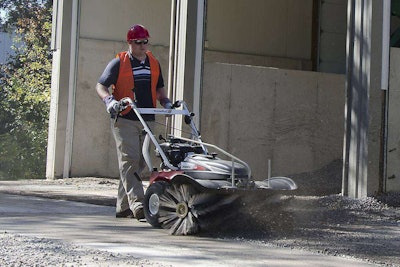 Simplify cleanup jobs with the new walk-behind rotary broom line from SweepEx, which includes ergonomic features for comfortable, easy-to-use operation, and a design that enables working against walls or in open areas.
The line includes three models: the SWB-320, with a 32-inch working width and one-speed transmission; the SWB-400, with a 40-inch working width, three-speed transmission with reverse, locking differential, multi-step brush speed and variable down pressure; and the SWB-480, which includes all the features of the SWB-400, but with a 48-inch working width and infinitely variable brush speed.
Powered by a Honda engine, the brooms feature a centrally driven brush that allows the unit to work against walls from either side of the machine. Additional features include five angle settings that control the windrow of debris, a broom hood constructed of a durable elastic material that resists damage, intuitive controls, seven-position handle height and folding handlebars.
Available options include a debris collector box, leaf collector, protective cover and winter-tread wheel set. Brush kits for special applications such as snow or sensitive surfaces are also available.