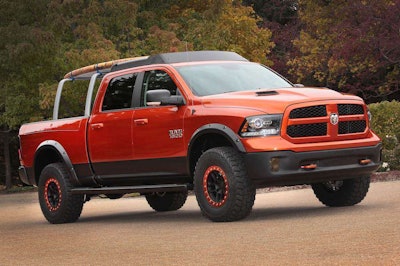 A lot of what you see at the SEMA auto show in Las Vegas each year is automakers having a bit of fun. There's a lot of thinking outside the box and a lot of customization to trucks to show how adaptable they are to particular types of customers. And while it may seem extremely out of place for a company like Ram, whose marketing is serious about getting hard work done, to create a truck specifically for going to the beach, that's exactly the kind of creativity SEMA creates.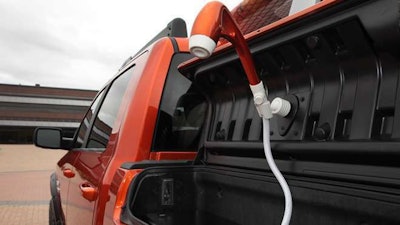 The Sun Chaser concept makes the case that having fun at the beach can still prove to be hard work for a truck, especially when you've got a lot of gear to haul. Aimed at surfers, the truck started as a Ram 1500 Quad Cab and was fitted with a custom concept Mopar roof rack with adjustable rails enabling it to carry a long surf board. Plus, four more surfboards can be hung from the side of the rack.
The tailgate paneling flips up and converts into a bench leaning back chilling or, as Ram suggests, changing out of your surfing gear. The truck even has a portable shower, shown above, for getting all the sand off. The shower recycles water stored in the RamBox bedside storage bin.
The truck has been painted black and a sweet burnt shade of orange and rides on top of 17- by 8-inch beadlock wheels. The truck is powered by a V-8 Hemi and tubular sidestep rails skirt the body. The truck features a 2-inch lift kit, cat-back exhaust and sport performance hood.
Not bad for a beach truck.