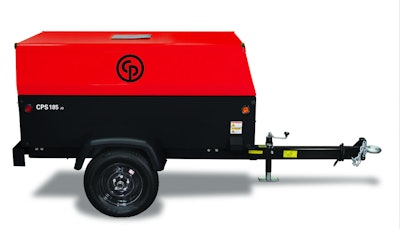 Run a range of pneumatic tools with Chicago Pneumatic Construction Equipment's CPS 185 JD iT4, a 185-cfm portable air compressor.
Featuring a 49-horsepower, four-cylinder water cooled John Deere engine, the CP 185 JD has a normal working pressure of 100 psi with a 125-psi max unloading pressure. The 2,375-pound compressor measures 125 inches long, 60 inches wide and 55 1/4 inches tall and has a 25-gallon fuel tank.
Features include a rear-mount control panel for easy operation, trailer light package, adjustable hitch with jack stand and safety chains, automatic temperature shutdown, low oil pressure shutdown and a galvaneal sheet metal enclosure for reduced noise.
Available options include additional hose reels, an 18-inch extended drawbar, heavy duty battery and block heater.