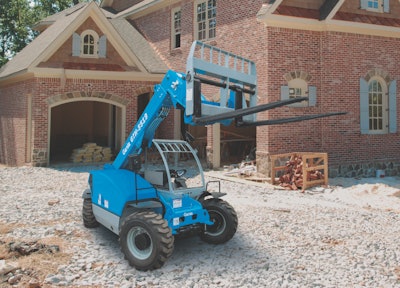 There are few cues from the outside of Genie's GTH-5519 that it's received a major upgrade, says Chad Hislop. "The only real visible change is the engine hood," says Terex's Aerial Work Platforms product manager.
As the Tier 4 aftermarket package grew, the under-the-hood enclosure needed to be reconfigured. This made Genie rethink the hood raise feature, which can now go back 90 degrees to for additional engine compartment access, as has a gas spring instead of pin release.
Underneath, the Deutz TD 2.9 four-liter Tier 4 Final engine provides 74 horsepower, up from 67 horsepower in the previous model. The under-75-horsepower engine, coupled with diesel oxidation catalyst, does not require a diesel particulate filter. Exhaust exits through the bottom of the machine. The updated model will no longer have a Perkins engine option.
Hydraulic connections and air bleeding valves have been moved from under the boom to the front for easier, safer access. Keen eyes will also spot that the front fender/mirror/light package is on one mount. The back fender is now made with softer rubber, designed not to crack.
Overall length of the unit is reduced by 5 inches, while the wheelbase has increased 2 inches; turning radius is decreased by 3 inches. This adds up to a compact, maneuverable general purpose telehandler that can accomplish a variety of tasks while still fitting into tight spaces.