Improve productivity when excavating or trenching with Doosan's new Tier 4 compliant DX63-3 and DX85R-3 excavators, which also offer a blade float feature for smooth grading, leveling and backfilling.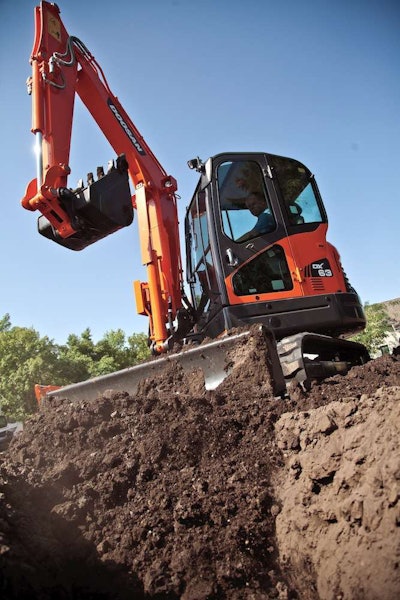 The 6.3-metric-ton DX63-3 compact conventional tail swing excavator features a 13-foot, 6-inch dig depth and has an operating weight of 13,779 pounds; an 11.6-inch tail swing overhang; 5,767 foot-pounds of arm force and 9,731 foot-pounds of bucket force.
The 8.5-metric-ton reduced tail swing DX85R-3 weighs 18,960 pounds with a 91-inch width and 5.8 inches of tail overhang; 14,509 foot-pounds of breakout force; 8,069 foot-pounds of arm force and a 15-foot 6-inch dig depth.
The new blade float feature ensures operators can use a single machine to excavate and fill material, and the 16.1-inch blade height on the DX63-3 is a 21-percent increase compared to the machine's predecessor, the DX60R.
Both the DX63-3 and the DX85R-3 have standard Auto-Shift travel that shifts the excavator out of high or low range and back automatically; fingertip boom swing functions that allow the operator to more easily position the work group for offset digging; auxiliary hydraulic functions that are selectable for more precise attachment performance; and a multi-language color panel to monitor machine vitals such as fuel level, coolant temperature, engine rpm and more.
Maintenance is simplified and uptime is increased via new guards that protect the boom cylinder while the excavator is digging, as well as extended grease intervals. Four tie-down points are integrated into the undercarriage to simplify machine loading for transport.
Quick Specs