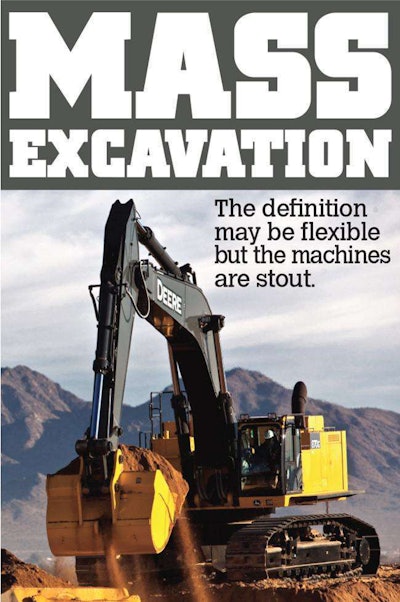 In general, mass excavation is the removal of large amounts of materials using big machines over an extended period of time and within a deadline. How much material? How big of machines? How long of a time? There is no hard definition of mass excavation and the answers to those questions are at least partly dependent on the size of the contractor who's asking them.
"Mass excavation may be as little as 1,000 cubic yards to 100,000 or a million yards or more," says Michael Boyle, product consultant of excavators with John Deere and Hitachi.
It's easier to define the equipment used for mass excavation than to define the term itself. Kent Pellegrini, global excavator specialist with Caterpillar, explains that on a mass excavator the car body is a reinforced version of the car body on its standard counterpart. The undercarriage is reinforced and likely has special guarding. The stick, boom, and their cylinders are stronger for improved breakout and bucket loading.
Mass excavation machines are often modified to withstand high-volume work, says Doug Morris, director of product marketing, and Rob Warden, senior product manager of trucks with Komatsu America. Buckets have wear plates added and trucks may have partial or full liners. Warden notes that articulated haulers for mass excavation are in the 30- to 40-ton range and rigid frame trucks in the 30- to 100-ton size.
Key specs today and tomorrow
"On any project, and especially in mass excavating, the loading tool usually defines the other equipment to be used," says Ken Emmett, product manager at Terex. Site specifics, from material density to altitude to production targets, are key considerations in spec'ing everything from the loader or excavator to the light towers.
David Ellington, off-highway trucks subject matter expert at Caterpillar, says contractors have to see the big picture while selecting and spec'ing equipment. "Look at something you'll use for several years, not just for the current job. And look at equipment as a system, not individual pieces." For example, if you know you'll need rigid frame trucks to meet production numbers, you know you'll also need support equipment to maintain haul roads.
It's good to know how versatile each machine must be, as well. Melvin Busch, senior account manager at Caterpillar, says mass excavation machines are often pressed into service in such areas as maintaining load floor areas and spreading materials. This will affect everything from bucket size to blade type to shoe and grouser size.
The more specific the application, the more specific the configuration, says Bob Schenk, Dressta product and marketing manager, LiuGong Machinery. Do you need hydraulic pitch to roll the blade forward and backward or will hydraulic tilt be enough? Is there a need for special spill guards? What about protection for the operator, such as window guards?
Telematics are increasing in value as fleet managers find more ways to use the extensive data they provide. Ellington cites such specifics as differences in strut pressure, which can indicate whether the loading area is level and loads are balanced in the truck bodies.
Boyle says telematics allow real-time machine management, such as calling an operator with instructions to reverse a cooling fan to clear debris from a radiator if engine temperature is rising.
Cat's D10 and D11 offer line-of-sight remote control. "Everything available in-cab can be done on the remote console," says Busch. "Remote control is good for high-risk applications, such as working against a high wall." When equipped with Terrain for Grading, a remote-controlled machine can be set up to recognize exclusion zones to stop the tractor before it enters an area where conditions are hazardous or not acceptable for machine operation. Proximity awareness, which could prevent collisions between machines, is on the horizon.
Schenk says not all customers see value in layers of electronic controls. "There is a growing sector of users opting for the benefits of simplicity."
New and existing machines must work together
When acquiring new equipment it's important to know how those pieces will integrate with the existing operation, says Schenk. "Will the operators like the new stuff? Can my service personnel keep it running without a lot of training and proprietary service tools? Will parts be readily available?"
If a mix of new and existing equipment is to be used on the same job, it's important that all the machines work well together. For example, Warden says you wouldn't want three 70-ton trucks and one 100-ton truck. "You want to ensure that you are able to load a truck with an efficient number of passes, which is typically three to five," says Morris. "If a loading tool requires too many passes, you can create a queue of trucks waiting to be loaded. Too few passes can create a pretty large shock when the material is dumped into the truck body."
George Lumpkins, product marketing manager for Kobelco, notes that the relationship between an excavator and the trucks it loads is critical. "A mass excavator typically has a shorter boom and arm than a standard excavator. This increases digging force but reduces reach and dig depth. Digging too deeply or reaching out will reduce production and waste time."
He says the best setup is with the excavator on a shelf or bench, digging backwards at no more than half the machine's maximum dig depth. By comparison, putting the truck and the excavator at the same elevation will reduce productivity by 20 percent or more. Maximum efficiency occurs when the inside rail of the truck body is positioned below the hinge pin between the boom and arm of the excavator and excavator swing is no more than 90 degrees from the dig position for side loading or 45 degrees if end loading.
Because the machines work together, failure of any one machine can lead to a cascade of lost production. "Keeping tracks clean and staying on top of preventive maintenance are critical for uptime, and downtime is entirely unacceptable." says Ira Davis, product specialist with Case. Davis makes the comparison to an assembly line where interruption in flow at any point brings the entire line to a standstill.
Acquisition and disposal of equipment
Davis has noted a change in market conditions in the past year. Equipment has been plentiful and easy to find. Because of this, auction and trade-in values have gone down and equipment brokers have seen increased activity. "Brokers have customers around the globe and can quickly move machines to a wide and diverse customer base."
One of the keys in disposal when looking to offshore markets is the exchange rate, says Ian Marshall, marketing manager for Bell Equipment. The appeal of any market is based at least in part on the strength of its currency relative to the U.S. dollar.
Customers looking for the most expedient and painless means of disposing of equipment are turning to trade-in and auctions, says Boyle. Either will likely net the customer less money than an outright sale but the convenience is often worth the difference. Boyle also mentions that the used market has a lot of high-hour machines and machines with troubled health records. "A lot of contractors dumped machines early in the downturn and have just recently been moving what they held onto as they buy new replacements."
Cat's Pellegrini says that depending on market conditions, some customers are putting new machines into high-demand applications, such as loading from a face, and retiring older equipment to less-intensive applications such as loading shot or crushed rock. EW