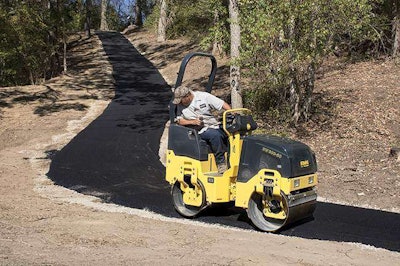 1. What type of material will you be compacting?
If you're compacting soil, know what type of soil – gravel, sand, silt or clay. Gravel and sandy soils call for a smooth drum vibratory roller; if you're dealing with silt or clay materials, investigate a sheepsfoot (also called a padfoot) roller.
Since sandier soils are granular and easier to compact, you'll be able to compact thicker lifts than you would with a silt or clay soil, says Mike Watt, Volvo Construction Equipment. Another factor is the moisture content of the soil that will be compacted, since drier soils are harder to compact.
The type of soil also has a role in the amount of centrifugal force that needs to be applied, Watt says. Sandy soils require around 1,900 vibrations per minute, while clay requires around 1,300 vpm. Volvo, for example, offers up to five different frequencies on some compactors to match differing conditions.
If you're compacting asphalt, keep in mind the required density factor, Watt says. "Mixes have changed so much, and the type of stone is in the mix will affect whether you want to go with a pneumatic (or rubber-tired) roller, a smooth drum with the vibration on, or a smooth drum with the vibration off."
2. How thick will the lifts be?
Lift thickness is a key job spec to know, says David Dennison, BOMAG. "The thicker the lift, the more vibratory force and weight required," he says. "While you can do multiple lifts of thinner layers, if you're in a production situation, a thinner lift is not always an option."
Machine weight is important to consider in relation to the size of the lift and the final compaction density, according to Katie Pullen, Case Construction Equipment. "A heavier machine used on a thinner lift can cause over-compaction," she says, "while a lighter machine on too thick of a lift can leave the base of the lift improperly compacted."
3. What kind of work will you be doing?
Soil compaction jobs can include base compaction, slopes and trench work (which may call for a radio remote trench roller). Asphalt work includes everything from golf paths to parking lots to roads.
The job at hand will have an impact on the size and type of compactor rented. For example, if you're putting in a small driveway, usually a roller with a 36- to 48-inch double drum vibratory roller drum will do, Dennison says.
Small, utility size compactors are well suited for light asphalt work and thin base aggregate lifts, according to Caterpillar Paving Products. Cat says these size machines are less effective on soil applications because their lower amplitudes impart less energy to the soil, limiting their ability to rearrange particles and increase density.
In addition, the machine weight, drum width and linear load need to be appropriate for the job at hand, according to Caterpillar. And make sure the rented compactor meets any job requirements for a specific level of vibratory energy.
Also note if the rental unit will have adequate horsepower for handling any tough applications or grades, says Fred Paul with Wacker Neuson.
And realize there may be instances where you'll need to rely just on the roller's static weight to compact, Watt says. Examples include tender asphalt mixes or areas where vibration could damage underground pipes or surrounding structures.
4. How big of an area are you compacting?
Drum width is extremely important, says Pullen, and bigger is not always better. "There may be an assumption a wider drum will be more productive." A smaller drum may offer the best solution for getting the job done in the fewest number of passes while minimizing overlap, which helps reduce over compaction (disintegration of an area that's already reached density).
Logic follows that confined areas will need smaller compactors, says Tim Springer with JCB. On the asphalt end, look at the mat width required. "Match the width of the mat to the roller drum size," he says. For instance, if your paver is putting down an 8-foot wide mat and you've got a roller that's only got a 36-inch drum width, it will require three passes. If you use a roller with a drum wider than 48 inches, you can get mat coverage in only two laps."
5. What size of machine do you want?
"You'll be asked the required operating weight and preferred drum width," says Dennison. Compactors come in a variety of drum widths, ranging from 42 to 84 inches wide on single smooth drum and padfoot vibratory compactors and 30 to 84 inches wide on double drum models. Pneumatic tire compactors range from 36 to 91 inches wide, while double drum static models vary from 28 to 56 inches wide.
Rental companies typically carry the smaller rollers, while larger rollers can be rented from OEM dealers. A Volvo Rents store, for example, will rent up to a 7.5-metric-ton operating weight roller, with Volvo dealers carrying the rest of the company's compaction line.
According to Springer, 47-inch-wide asphalt rollers are one of the most popular rental sizes. "It's versatile enough to do the small jobs and yet the larger road contractors will use them too."
6. Is the water system adequate?
Check out the water system on a rented asphalt compactor. If it's not working properly, asphalt will stick to the drum. "Look for pressurized water tanks that hold enough water to get through an entire day," advises Pullen. The pressurization will ensure the right amount of water is being distributed to both rollers regardless of the grade.
7. Will you be transporting the rental unit yourself?
Then you'll need to know the compactor's static weight, says Paul, and whether you have the equipment necessary to safely tow the unit.