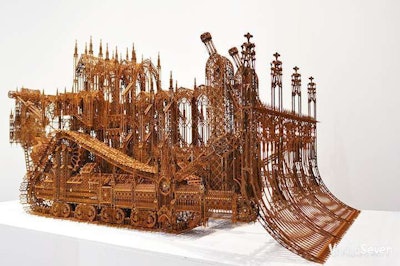 The My Modern Met blog recently shared photos of sculptures done in the form of construction equipment by a Belgian artist named Wim Delvoye. Just about 10 years ago, Delvoye sculpted concrete mixers, excavators and bulldozers—all with a gothic twist.
According to the New York City Public Art fund, the sculptures are made with corten steel laser cut into ornate lattice work of the Gothic style. Because of that you still get the very recognizable form of construction equipment mixed with the look of a beautiful cathedral.
The collection of equipment, which also included barriers and traffic cones, was called Gothic and was first on display in New York City's Doris C. Freedman Plaza and at Madison Square Park in 2003. Be sure to check out My Modern Met for more photos of the sculptures.