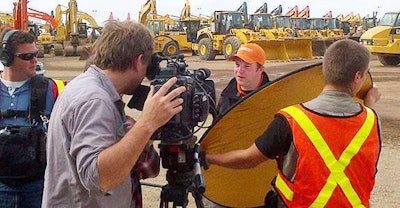 Our friends at Ritchie Bros. Auctioneers have been featured on TV many times before, but now they are officially Canadian TV stars.
The recently-launched Cottage Life channel, a Canadian cable network with shows that cover DIY, cooking, entertaining, real estate and outdoor living, is currently airing a 13-episode series called "Selling Big."
The series stars Ritchie Bros.' Grande Prairie, Alberta location and chronicles the business of auctioning heavy equipment.
Unfortunately, if you live outside Canada you can't watch the show—even online. However, we hope that changes because they show sounds really interesting. According to the Ritchie Bros blog, the show follows the company's customers and employees and offers a behind-the-scenes look at the auction business.
The first episode of the show covered the start of the company's 2012 season, while episode 2 features an auction in Drayton Valley, Alberta where two farmers, Len and Vicki Paulson, are selling their land, farm equipment and even a jet ski, in preparation for retirement. The third episode covers the company's big Edmonton, Alberta auction.
Filming took place this spring and summer around Western Canada, at the auction sites mentioned above in addition to Chilliwack, British Columbia, Wembley, Alberta and Winnipeg, Manitoba.
Canadian readers can check out "Selling Big" on the Cottage Life channel every Wednesday at 10 p.m. Eastern and Pacific.