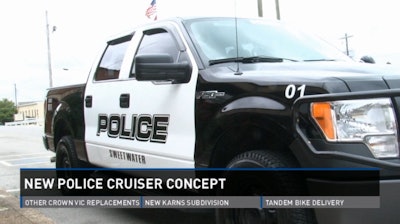 When it came time to buy a new police cruiser earlier this year, the Sweetwater Police Department was going to have to move out of its comfort zone a bit. The Crown Victoria, Ford's longtime standard issue for police had been discontinued.
So Sweetwater thought a bit outside the box, according to a report from Knoxville, Tennessee's WBIR TV.
The cruiser the department decided to invest in is a 2013 F-150 with Ford's Police Interceptor package. The report doesn't go into the specs of the truck, but if you're curious, Ford offers police departments quite a bit of customization on these pickups and they're available with either a 5.0-liter V8 or a 3.5-liter turbocharged V6.
Sweetwater Police sergeant John Brewster told WBIR the folks in Sweetwater still don't recognize the pickup as a police vehicle—sometimes until it's too late and he's flipped on the lights and sirens.
Another interesting tidbit is that the trucks are actually saving the department on fuel. Apparently, the Crown Victoria police cruisers only got between 13 and 15 mpg. The new F-150 is averaging 18 mpg.