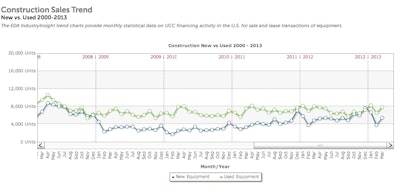 New financed construction equipment sales increased 10 percent from a year ago, according to new figures from Equipment Data Associates, a division of Randall-Reilly.
In March, 5,410 units of new construction equipment were sold compared to the 4,836 units sold in March 2012. Used financed construction equipment saw a slight decrease in unit sales of 1.7 percent, falling from 8,011 in March 2012 to 7,784 in March 2013.
In terms of month-to-month figures, both new and used financed equipment saw gains.
New financed equipment saw a huge monthly jump of 44 percent in March, growing from the 3,747 units in February. Used financed equipment saw a big gain as well, growing 21 percent from the 6,507 units moved in February.
In the year between March 2012 and March 2013, skid steer loaders took the top spot in terms of the types of equipment sold with 27,424 units sold or 19.9 percent of the market share, according to EDA data. Excavators were second with 22,164 units sold and 16.1 percent of the market, followed by skid steers at 16,301 units or 11.9 percent of the market.
Bobcat took the top three spots of the top selling models list. The top selling model in the past year was the Bobcat S-185 skid steer, followed by the T-190 compact track loader S-650 skid steer.