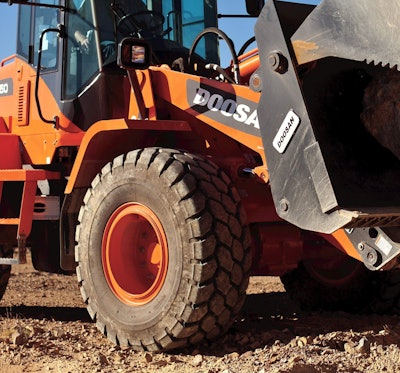 Doosan says its latest wheel loader, the DL250-3 is not just an update that adds a Tier 4 engine, but a launch that offers increased performance.
The DL250-3, a 3.7-cubic-yard loader, now boasts 172 horsepower over the 163 hp of the previous model. It's powered by a 6-cylinder DL06 engine and has a breakout force of 27,120 pounds. Dump height is 9 feet, 2 inches, but a high-lift configuration is available pushing the dump height to 10 feet, 8 inches. Tipping capacity is rated at 20,680 pounds.
With the DL250-3, operators can now set upper and lower limits for the lift arm and bucket stop positions from inside the cab. Other improvements include an auto-reversing fan for dirty and dusty conditions and a new auto-idle feature that provides additional noise reduction and fuel savings.
The loader features a limited slip differential standard, but a hydraulic locking front differential is an available option allowing the operator to manually lock the differential with a floor switch or let the machine handle it automatically. The differential is great for loose terrain and pushes more power to the wheels when one loses traction or spins.
Several updates to driver comfort have been made. Doosan also lowered the loader's front side glass for better visibility as well.