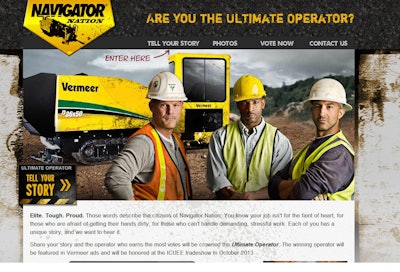 Vermeer is hosting a new campaign and video contest called Navigator Nation to promote horizontal directional drilling (HDD) and the skilled professionals who contribute to the industry.
As part of the campaign, Vermeer launched NavigatorNation.com, an online interactive community for HDD professionals that will feature video and image libraries showcasing HDD operators on jobsites discussing their backgrounds, what made them become operators and the challenges they face at each jobsite. New photos and videos from users and Vermeer will be uploaded regularly.
The video contest for the Ultimate Operator begins January 3. To enter, contractors will upload video profiles of their crews to NavigatorNation.com, where site visitors will vote on their favorite operator profiles.
The operator who receives the most votes throughout the year will be named the Ultimate Operator at the International Construction and Utility Equipment Exposition (ICUEE) in October.