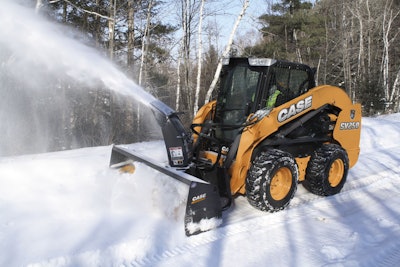 Talk about humble beginnings: The skid-steer loader was developed to move turkey manure out of barns. A Minnesota poultry producer approached brothers Louis and Cyril Keller about making a machine for that purpose in 1956. Within months a prototype was in the barns. It was the first of what was to become the Bobcat brand of skid steers.
Today's skid steers bear almost no resemblance to that prototype with its 3-wheel chassis and unreliable belt drive – the only traits they share are a front loader and extreme maneuverability. Skid steer design has become so mature that one of the challenges facing buyers today is selecting the right machine. Manufacturers size skid steers by rated operating capacity, but that's just a starting point of key considerations.
Deciding on lift type
If a skid steer is used for many applications, either a vertical or radial lift design will do the job. "In general, both lift arm designs perform well across several applications," says Sean Bifani, product manager for skid steers at Gehl. "However, radial-lift models are generally considered to be a better choice for ground-engaging applications while vertical-lift machines tend to be better for material handling applications." Both styles do well loading, but radial lift provides more reach at the midpoint in a lift cycle, which is good for loading lower vehicles such as pickup trucks and flatbed trailers. Vertical-lift designs have more reach and height at maximum lift, which is good for loading into higher locations.
Kevin Coleman, senior marketing engineer at Caterpillar, provides a list of common applications best suited for each type of machine. Because radial lift provides a compact and simple linkage design with good reach at mid-lift height it is well suited for:
• digging and dozing, including foundations, driveways and sidewalks, and recycling/transfer stations;
• finish grading and backfill applications, such as landscaping and site prep.
The radial-lift design also provides a lower weight and lower cost machine configuration than a vertical-lift model.
Coleman says that with its higher lifting heights and extended reach at the top portion of the lift cycle, a vertical-lift machine works well for:
• material handling;
• truck loading;
• stockpiling.
Vertical-lift machines also feature increased dump angles for improved bucket cleanout and higher rated operating capacities.
Curtis Goettel, brand marketing manager for New Holland, offers this rule of thumb: "If you're doing most of your work below eye level, go with a radial lift. If most of your work is above eye level, opt for a vertical-lift machine."
Goettel lists other considerations when selecting a machine. Daily checks, preventive maintenance, and repair are more likely to occur if access to service points is quick and easy. And, as most contractors experience daily, dealer support is crucial. "Operator comfort is also important and has improved dramatically in recent years as enclosed and pressurized cabs, HVAC, and ride-control features have become commonplace. The more comfortable operators are, the longer they stay in the cab and the more they get done."
Skid steers now have a wide range of control types. Experienced operators usually prefer the controls that are the most familiar to them, such as foot pedals or hand levers. But younger operators often have a preference for joystick controls, according to Jamie Wright, product manager for Terex Construction. "Joystick controls have become popular in larger-class units in the past five-to-seven years," he said. "They require less input force while enabling precise control."
Skid steers as toolcarriers
While the prototype built by the Keller brothers was designed for a single purpose, today's skid steers often perform a wide range of tasks. New Holland's lineup includes more than 50 attachments for skid steers. Ashby Graham, skid steer product manager at JCB, offers a list that includes brooms, sweeper/collectors, forestry cutting heads, landscape power rakes, forks, bale spears, grapples and a range of snow removal attachments such as buckets, blowers and pushes. "The great thing about skid steers is they are such versatile machines that can use many attachments. The tasks that a skid steer can do are almost endless," he says. It's important to know which attachments you'll be using when you spec a machine, Graham says, so the rated operating capacity, hydraulic flow and pressure, and other performance attributes will support those applications.
Lars Arnold, skid steer product manager at Volvo, notes attachments can even dictate the choice between radial and vertical lift. "Because radial-lift machines have fewer moving parts, they're better for high-stress applications, especially those with high shock loads or lots of vibration." Attachments of this type include mulchers, drills, cold planers and rock saws.
Although improved versatility often occurs as product design matures (think of a modern smart phone compared to a cell phone of a few years ago), the demand for skid steers to do more tasks has been accelerated by the soft economy, says Mike Fitzgerald, product specialist at Bobcat. "The recession forced many contractors to add new services and applications to their offerings such as demolition, cleanup, and snow removal. The largest skid steer loaders – those of 2,201 pounds or more rated operating capacity – have the required engine and hydraulic powers to perform these duties."
Fitzgerald noted that sales of larger skid steers have been strongest in the central and upper Midwest regions. "The Midwest never experienced the housing market bubble that much of the country went through."
The next half-century
So where do skid steer loaders go from here? Many of the current trends will continue, especially as they relate to operator comfort and productivity. Sizes, as expressed in ROC, will continue to increase, but New Holland's Goettel says there may be a ceiling. "While the 3,000- to 4,000-pound size class is growing quickly, the volume of those biggest machines is still comparatively small. It does appear the market is headed that way but there is some question if it has hit its upper limit. We are now getting into price points and sizes that are already filled with compact wheel loaders that can lift more and are more versatile in many applications."
Jamie Wright of Terex says the proliferation of control types is over and the market may be gravitating toward one or two favorites: "Selectable controls to switch between ISO and H-pattern options appeal to a large customer base, but the demand for the H-pattern is fading while the popularity of joysticks is increasing."
One thing seems certain: skid steer loaders have moved well beyond their sole purpose start. Today's models are powerful, comfortable, and versatile, and future models will continue to develop these traits.
ROUNDUP
The John Deere 318D and 320D skid steers have rated operating capacities of 1,800 pounds and 2,000 pounds respectively. The machines feature a larger sealed and pressurized cab to keep out dust and noise, plus provide enhanced visibility. Travel speeds can be increased up to 11 mph using two-speed option. The 58-horsepower 318D (pictured) has a 5,125-pound bucket breakout force and 1,800-pound rated operating capacity. A netted pouch stores and protects your cell phone and other electronics. Other options include electrohydraulic joysticks with selectable control pattern, AM/FM/weatherband radio with a MP3 plug-in, and high-flow hydraulics.
The Mustang 4000V, introduced along with sister company's Gehl V400, comes with a 99-gross-horsepower engine and 4,000-pound rated operating load. All daily maintenance and service checks can be performed through the machine's large hood. The ROP/FOPS cab-forward design provides enhanced visibility to the bucket. A side-bolting restraint bar with adjustable armrests increases operator safety and comfort. Cleaner and quieter operating environments come with the pressurized cab enclosure option, featuring sound reduction material, and a rear-mounted air filter
Improved serviceability and cab comforts headline Bobcat's mid-size 500 series, which includes five skid steers and two compact track loaders. The skid steer models range in rated operating capacity from 1,650 to 2,100 pounds. The radial-lift S510 and S550 excel in dumping over obstacles, backfilling or loading trucks. The vertical-lift S530, S570 and S590 skid steers are designed to lift heavy loads. A choice between vertical lift and radial lift is offered with the two compact track loader models, the radial-lift T550 and the vertical-lift T590. The cab-forward design on all seven models moves the operator closer to the attachment for improved visibility. Compared to previous models, the 10-percent larger cab has additional headroom and a large cab door opening with lowered threshold.
The Cat 272D XHP skid steer and 299D XHP compact track loaders are high-performance counterparts to standard D Series models in these sizes. Powered by an electronically controlled Cat C3.8 engine, the machines offer reduced emissions through Cat NOx Reduction System and a diesel particulate filter. All D Series machine larger lift cylinders, offering a 19-percent boost in lifting force compared to the C Series models. The electrically activated quick coupler replaces the C Series' hydraulically actuated coupler, a design that eliminates hydraulic lines, connectors and valves. Cat's Intelligent Leveling system, called ILEV, levels the load during raising and lowering, and automatically lowers the lift arms and returns a work tool to a preset angle, even after the machine has been repositioned.
JCB's 155 New Generation skid steer, manufactured at their Savannah, Georgia, plant, offers a compact design for maneuverability in tight jobs. The radial-lift model has a rated operating capacity of 1,555 pounds, and features electro hydraulic servo controls. These controls minimize the potential for leaks and improve both service access and machine controllability, says JCB. With its single-arm Powerboom design, the machine can be entered through a side door without crawling over attachments. The cab comes standard with a mechanical suspension seat, or you can opt for a heated, air suspension seat with adjustable arm pods. The 115 can use more than 30 families of attachments, and has an optional hydraulic quick-hitch that lets operators quickly change attachments.
Case Construction Equipment's Alpha Series lineup includes six radial-lift models and three vertical-lift models. The models range from 46 to 90 gross horsepower and from 1,300 to 3,000 pounds in rated operating capacity. A gear pump drives the standard proportional auxiliary hydraulics. Functions such as float, auxiliary hydraulics, two-speed, park brake and Case's Ride Control are controlled by integrated hand and foot throttles and a thumb-actuated control on the right joystick. Operate high-capacity attachments such as cold planers, mulchers and stump grinders using optional high-flow or enhanced high-flow hydraulic system.
An 83-horsepower turbocharged Perkins engine powers the Terex TSR80 radius-lift, 2,250-pound rated operating capacity skid steer. The machine has 125 inches of lift height and 24 inches of reach, and offers 8,700 pounds of tractive effort. With 10.5 inches of ground clearance and a 26-degree rear angle of departure, the TSR80 can travel over soft, uneven terrain. An optional two-speed transmission provides up to 12 mph top speed, aiding quick cycle times. A large 30-gallon fuel tank provides longer run times between refuels.
Gehl's vertical-lift V400 has a rated operating capacity of 4,000 pounds and vertical lift height of 144 inches, claiming the spot of largest skid steer loader in the world. With the breakout force of 9,150 pounds, the V400 has a 99-gross-horsepower Cummins diesel engine with 326 foot-pounds of torque. Providing improved surface access, the hydraulic fan with swing-out cooler reduces fuel consumption and noise levels. With the large rear engine hood you have access to all daily maintenance and service checks. High-performance attachments are handled with an optional high flow 40.8-gpm hydraulic system pressure. Gehl's standard Hydraglide right control allows the lift arm to "float" when transporting loads, minimizing loss of material.
Volvo's C-Series skid steer line has five models available in North America, including three wheeled models (MC110C, MC115C, MC135C) with operating capacities starting at 2,250 pounds, and gross engine power ranging from 84 to 92 horsepower. The two tracked models in the range, the MCT125C and the MCT135C, have rated operating capacities up to 3,200 pounds and gross engine power up to 92 horsepower. The model's single loader arm design provides improved visibility, safety and an easily accessed side entrance to the cab. The side entrance allows users to engage the loader arm support without the aid of a second person – operators simply stop the machine, exit it without without walking under the load, then walk to the rear of the machine to safely engage the support. Visibility is also increased by the elimination of the horizontal cross member found on most vertical-lift machines. The forward-tilting cab and large rear compartment service door provide improved service access.
The 200 Series from New Holland includes seven models featuring what the company terms "best-in-class" forward dump height and reach with its Super Boom loader vertical lift design. Each of the five vertical-lift 200 Series models – the L218, L220, L223, L225 and L230 – has a 53-degree dump angle, allowing operators to empty the bucket faster, which in turns increases cycle times. A self-leveling bucket allows attachments to maintain a preset location throughout the lift cycle. An optional Glide Ride feature ensures a smooth ride. The five models range from 57 to 84 horsepower, and from 5,850 to 8,300 pounds in operating weight. The L213 and L215 compact radial-lift models have many of the features of the larger machines, including full-size cabs, Glide Ride and a self-leveling bucket.