THE PULVERIZER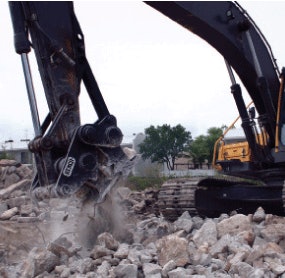 Kenco's Concrete Pulverizer is available for excavators from 20 to 70 tons. It features alloy steel teeth built for maximum concrete penetration without taxing the life of the teeth. The Concrete Pulverizer uses the bucket hydraulic cylinder with engineered leverage to create enough crushing force to easily minimize concrete. The Pulverizer is equipped with replaceable teeth and an optional rebar cutter is available.
Text INFO to 205-289-3715 or visit www.eqwinfo.com
MATERIAL DENSIFIERS
Pemberton Material Densifiers, such as the MDG-400, handle concrete slabs, pilings, precast poles, RCP pipe, steel encased beams and more. The MDG-400 is built for excavators between 89,000 and 111,000 pounds. Weighing in at 5,900 pounds, the MDG-400's jaw opening is 48 inches, with a bottom width of 30 inches and a top width of 24 inches. Throat-mounted rebar cutters are optional. Abrasive-resistant weld in the replaceable teeth are standard on the MDG-400, as are hardened steel pins, bushings and grease points at all hinge areas, providing durability in rough applications.
Text INFO to 205-289-3715 or visit www.eqwinfo.com
CUT IT UP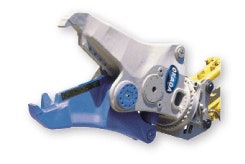 Okada's Cut Series line of crusher demolition attachments offers four sizes for tool carriers ranging from 6.5 to 50 tons. Cut Series attachments are capable of demolition and structural steel processing at the same time. With 360-degree rotation, the operator is provided with easy access to all demolition work, including confined areas. Okada's hydraulic speed valve decreases cylinder cycle times by using the return hydraulic oil out of the cylinder to produce faster speeds. Other features include an alloy-cast steel body and jaws, hardened four-way cutting blades, extra-large crushing cylinder and abrasion-resistant fracturing teeth.
Text INFO to 205-289-3715 or visit www.eqwinfo.com
CONCRETE PULVERIZER TIPS
When it comes to concrete pulverizers, you're dealing with a pretty simple concept. Essentially the machine operator wants two basic things from this piece of equipment:
• A pile of clean rebar
• A pile of concrete chunks in the 0- to 6-inch range
But concrete can be a tricky customer. In addition to the tough nature of the stuff, those who set the concrete wanted to make sure it could not be destroyed with ease. In order to combat these forces, Duane Webb with Kenco recommends ensuring that the work piece is inserted deeply into the jaws of the pulverizer. Also, you'll gain maximum mechanical advantage if you keep machine's stick perpendicular and use the ground to help keep the work piece in the pulverizer's jaws.
GREEN CRUSH
Indeco's IFP1250 concrete pulverizer is designed for use on excavators weighing between 23 and 40 tons, and can increase production of recycled concrete by as much as 30 percent by reducing the overall dimensions of concrete pieces before they are loaded into portable crushing plants. The IFP1250's jaws are engineered to separate concrete pieces from the rebar reinforcement, which can then be recycled for scrap. The IFP1250 operates on a high-pressure, bi-directional circuit similar to that of a thumb, requiring little if any modification of the auxiliary hydraulics standard on many full size excavators. Integrated rebar cutting knives make it easier for the operator to cut the sorted iron to the proper size in order maximize the loading of roll-off containers.
Text INFO to 205-289-3715 or visit www.eqwinfo.com
IN-PLACE CRUSHING
The PTH 2500HD rock crusher was built for demanding conditions in gravel road maintenance and several other applications. Driven by a high-horsepower tractor and multiple V-belts on both sides, the rotor revolves at up to 1,000 rotations per minute, milling the ground to a depth of 15 3/4 inches. The rocks are crushed to the intended grain size between carbide-tipped hammers and hydraulically-adjustable, wear-resistant counterblow bars. Optional carbide-tipped counterblow bars and tool holders are available as well as additional crushing stages. All wear parts on the 2500HD are bolted on and can be easily exchanged without any cutting and welding.
Text INFO to 205-289-3715 or visit www.eqwinfo.com
MULTI-USE DESTROYER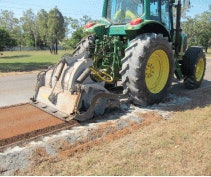 FAE's RSL is a machine built for use as a stone crusher, rock shredder, soil stabilizer and asphalt grinder for tractors between 80 and 190 horsepower with a working depth of 11 inches. The RSL features Hardox counter blades, a completely closed machine body to keep out dust and rear hydraulic protection/dosing hood with one adjustable cylinder for better regulation of the output material. Access to the rotor makes for simple inspection.
Text INFO to 205-289-3715 or visit www.eqwinfo.com
STEALTH COUPLER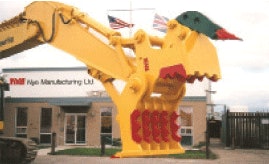 Nye Pulverizers crush precast or cast-in-place concrete and asphalt and more. Offered in 3/4 and 4/5 jaw configuration with jaw openings ranging from 21 to 58 inches, these pulverizers are made for any make and model of excavator ranging from 10 to 110 metric tons. The XCP2 series Pulverizer is Nye's seventh generation model and is built with three different grades of quenched and tempered T1 steel, designed to serve for thousands of hours before service is needed. The steel jaws are welded in to prevent them from falling out and jamming a crusher. Nye's optional ripper has a four-position ripper shank for sorting, prying, ripping and flipping concrete slabs. The ripper point can penetrate cracks and expansion joints and manipulate heavy blocks of concrete. Nye Pulverizers are engineered to work properly with or without a pin-grabbing coupler. The "Stealth Coupler" system allows rapid changeover from pulverizer to grapple to buckets and other attachments in minutes without a loss in force.
Text INFO to 205-289-3715 or visit www.eqwinfo.com
DEMO COMBO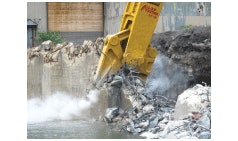 Outfitted with Allied-Gator's Quick-Change MT Cracker/Crusher Jaw Set, the MT Series Multi-Tool offers a demolition combination that processes concrete, heavy cast and rail materials. The 90-degree jaw opening of the jaw set holds more material and enables the Multi-Tool to demolish objects that are much larger than the actual jaw opening, such as concrete piers, foundations and building corners. The Cracker/Crusher Jaw Set features disposable wear components and interchangeable bolt-on tooth segments can be changed in less than five minutes, allowing the operator to control and regulate material size with several tooth configurations. Cracker tooth segments penetrate heavily reinforced concrete and dense rock, and safely process cast materials. Crusher tooth segments efficiently de-rod and pulverize concrete in one bite, allowing contractors to demolish and process materials simultaneously. Finish tooth segments send a clean, flat and controlled crack through curbs and walls, reducing costly and time-consuming precision work like facing and edging. Finally, MT Rail Breaker tooth segments process rail and, as an added benefit, cleanly remove any concrete or asphalt that may be bonded to the rail. The Multi-Tool is available in sizes from 800 to 52,000 pounds.
Text INFO to 205-289-3715 or visit www.eqwinfo.com