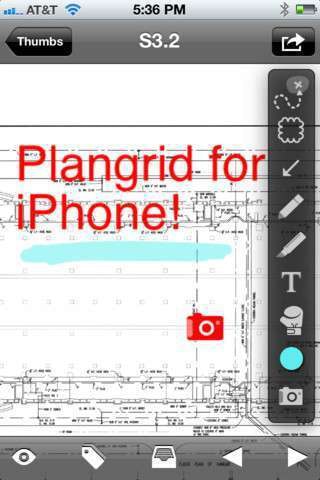 PlanGrid has released an app for the iPhone that provides the same functionality as its popular iPad app for viewing and annotating blueprints on the jobsite.
The release came just in time for the announcement of the iPhone 5 Wednesday, which boasts a larger, 4-inch screen, 4G LTE connectivity and a better camera.
The app seeks to remove from the jobsite the thousands of sheets of paper that compose printed blueprints. To do this, PlanGrid allows users to upload blueprints and plans online and then distribute them to team members as PDFs through the PlanGrid apps. From both the iPhone and iPad, users can mark up the blueprints and plans and those annotations are synced to the cloud. Once those requested changes have been reflected in updated plans and blueprints, they are simply sent out again through the PlanGrid apps.
PlanGrid also keeps up with all past versions of plans and blueprints, allowing users to access them even after changes have been made.
With the ability to be used on iPhone, PlanGrid also added integration with the Box.net cloud service which can be used to access blueprints uploaded to Box along with other project documents such as Microsoft Office files and pictures.
You can download the PlanGrid from the App Store by clicking here. Be sure to visit PlanGrid's website to setup a free account which allows you to upload 50 sheets each month. For $19.99 a month, you can upload 550 sheets and for $49.99 each month, 5,000.