No need to be compact for compaction
By Mike Anderson
Crawler excavators surpassing 30 metric tons are increasingly taking the attachment-carrier role traditionally played by 20-ton-class machines, says Volvo's Joel Escalante.
Larger carrier attachment use adds an element of caution, however. A mismatched attachment could instantly render the excavator useless.
"It's crucial to ensure the attachment purchased or rented is truly the one needed to get the job done," advises Chad Ellis, Doosan excavator product manager, suggesting application takes precedent. "Once the job has been evaluated and the attachment chosen, then pair it to the machine that will provide the optimal power and performance of that attachment."
Larger excavators can provide the hydraulic power and on-site maneuverability to effectively use assorted tools including compaction plates in hard-to-reach places, says Mark Wall, John Deere excavator product marketing manager, noting "multiple factory or dealer options tailor the machine to the customer needs."
At LBX, manufacturer of Link-Belt excavators: "A compaction attachment can be installed on our machines as long as a SAR (Special Application Request) document is submitted to our engineering group to review. This assures the customer we have given our blessing the tool is compatible with our machine," says Rob Brittain, marketing communication manager. "Essentially, we do not want customers to put tools on our machines which may be too heavy, require more power than our base can provide, or require more hydraulic flow than the machine is capable of. By installing tools which fit within our criteria, we can assure the customer is covered by our warranty if something were to fail."
Following are examples of compaction attachments that sized for 30- to 50-metric-ton excavators.
ROUNDUP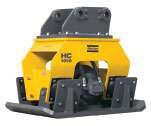 Atlas Copco
A hydraulic compactor attachment family introduced by Atlas Copco in March includes two models sized for excavators ranging up to 88,185 pounds in operating weight. Providing 23,149 and 25,133 pounds of force from 40 and 50 gallons per minute of flow respectively, the HC 1050 and HC 1055 feature a housing attachment offset at 15 degrees. Atlas Copco says this improves force distribution on the vibrator plate while reducing stress and wear on the compactor; in other designs, the shear load is high and distributes less weight to the actual compactor plate. A PermaLube system keeps the bearing flooded with oil. Mechanical stops prevent isolators from tearing out during a pulling operation. No special mount is required to fit any of the flat-top attachments to the excavator; standard adapter plates and attachment brackets allow mounting to most carrier makes. An optional backfill blade allows the excavator operator to grade in addition to compact soil. For product info, visit: atlascopco.us
Indeco
As compared to pin-on tops, Indeco's use of bolt-on mounting brackets allows the IHC-250 boom-mounted vibratory plate compactor to be adapted to any excavator quick coupler, the company says. An integrated flow-control valve further facilitates plug-and-play installation on multiple carriers within a fleet; applications range from trench and slope compaction to pile driving and compaction around foundations. The largest of four Indeco plate compactor models, weighing 2,132 pounds for use on carriers up to 100,000 pounds, the IHC-250 generates as much as 33,354 pounds of force off a required hydraulic oil supply of 50 to 60 gallons per minute. The baseplate measures 47.5 inches long by 35 inches wide. Indeco's use of rubber isolators ensures the force and vibration are directed into the material and not returned to the carrier's boom and operator, the company says. Available options include a backfill blade and 90-degree swivel top.
For product info, visit: indeco-breakers.com
MBW
Mounted on excavators up to 80,000 pounds in operating weight, MBW's static compaction wheels come in 24- and 36-inch widths. On smaller carriers, the W24 and W36 models can be converted into vibratory wheels for granular or mixed soils. Bearings in MBW rollers have a combined load-bearing capacity of 1.1 million pounds; the shaft is strength-rated at 750,000 pounds. Greatly reduced are bearing and seal failures, as well as bent shafts, spokes and frame components, "associated with conventional static wheels," says the company. The roller shaft is integral to the compaction drum and supported on both ends to reduce torque on the drum/shaft assembly. Drum scrapers in combination with the padded steel drum design keep the unit free of the clay buildup common to spoke-type wheels on cohesive soils, says MBW.
For product info, visit: mbw.com
Caterpillar
Caterpillar's largest vibratory plate compactor with a base plate width of 34 inches, the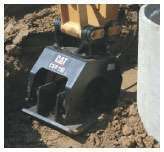 CVP110 was designed compatible to the company's medium excavators, including the 80,617-pound 336E L. A minimum hydraulic flow of 38 gallons per minute is required for the 2,319-pound CVP110, which generates an impulse force of 24,669 pounds over a compaction area of 11.1 square feet. The plate compactor can be used with pin grabber couplers, dedicated hydraulic couplers or pin lock couplers. A standard control valve protects the attachment from damaging pressures and flows; the tool can be used on multiple carriers without requiring additional hydraulic adjustment. To avoid snags, hydraulic hoses are protected inside the compactor's frame and jumper lines are routed out the back. Optional backfill blades can be mounted on the front and back of the CVP110, which does not require daily greasing. Hardened-steel shaft bearings operate in a continued oil bath.
For product info, visit: cat.com