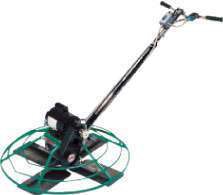 FAST FINISHING
The Whiteman J36E2 electric trowel from Multiquip features a 36-inch width and is powered by a 2-horsepower electric motor. Useful for all finishing requirements, the J36E2 has a manually adjustable variable speed clutch that allows rotor speeds to be adjusted up to 160 rpm, providing the torque necessary for panning, as well as the high speed needed for burnishing. The trowel includes a standard pitch electric handle.
Visit EquipmentWorld.com/info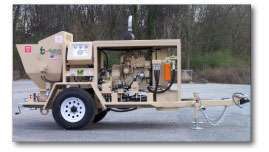 POWERFUL PUMP
Blastcrete Equipment's X-10 3-inch swing tube shotcrete pump handles 3/4-inch-diameter aggregate and pumps up to 12 cubic yards per hour. Delivering 2,200-psi piston face pressure, the X-10 can pump material both horizontally and vertically in excess of 500 feet. Features include a 2,400-pound-capacity receiving hopper with swing-out capability, a hydraulic agitator in the receiving hopper to ensure the mix stays blended and standard mounting on a 6,000-pound single capacity axle trailer. The X-10 is available with either a 66-horsepower diesel engine or a 40-horsepower electric motor.
Visit EquipmentWorld.com/info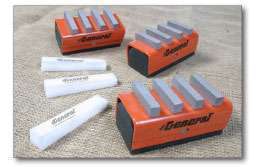 VERSATILE GRINDER
Perform a range of surface grinding applications with General Equipment's DIAM-A-TACH SG24-2300 series diamond segment grinding systems. The SG24-2300 works with low-speed surface grinders such as General's SG12 and SG24 series, and features 30- to 40-grit diamond segments. Operable wet or dry, the segments are useful for green concrete, high tensile epoxies, fully cured concrete and more.
Visit EquipmentWorld.com/info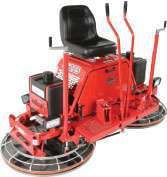 SMOOTH FINISH
Achieve a hard troweled clean finish with Allen Engineering's MP 235 Edger riding trowel, which has rotating guard rings to allow the operator to run along edges and around objects to within 5/16 inch of the surface. The MP 235 has two 36-inch-diameter four-blade non-overlapping rotors, variable rotor speeds to 145 rpm, a torque converter clutch system and a GX690 air cooled Honda gas engine. Additional features include manual steering and blade pitch controls, four lights, a 12-volt charger and an electric powered spray system for retardant application.
Visit EquipmentWorld.com/info