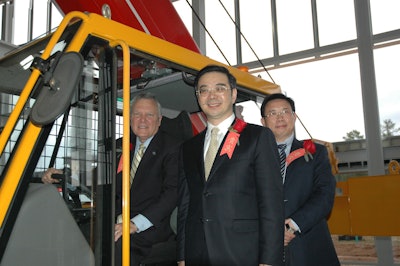 Georgia Gov. Nathan Deal and Hunan Provincial Gov. Qiang Zhou came together to celebrate the first phase completion of Sany America's North American assembly plant in Peachtree City.
As part of the ceremony, governors Deal and Zhou were joined by Sany Chairman Wengen Liang to debut Sany America's rough terrain crane, the SRC860, which will be manufactured at the Peachtree City facility. In addition to manufacturing, the facility will also house sales, engineering, testing, service and parts distribution, as well as serving as Sany America's corporate headquarters.
The SRC860 is the first U.S. tailored product designed by a joint Chinese/American team at Sany. It will be joined by two more rough terrain cranes, the SRC840 and SRC860XL, at ConExpo. The SRC860 has a 60-ton capacity at a 10-foot load radius.
For more information, visit sanyamerica.com.