Compact Excavators
By Lauren Heartsill
REDESIGNED POWER
The Bobcat E50, in the 4- to 5-ton weight class, has an operating weight of 10,677 pounds and an overall width of 77.2 inches.
• Has a bucket breakout force of 9,442 pounds
• Uses a load-sensing pump and closed center-valve system
• Features redesigned hydraulics and re-engineered boom geometry.
Visit EquipmentWorld.com/info

ECO POWER
The Yanmar SV100-1 features auto-idle and a selectable Eco-mode, which reduces fuel consumption.
• Uses two-speed travel
• Has 40 percent more cab room than previous model
• Powered by an electronically controlled Tier-3 engine.
Visit EquipmentWorld.com/info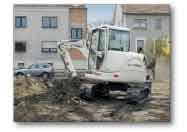 TURNS WITHIN TRACKS
The Terex TC50 weighs 11,067 pounds and has a maximum dig depth of 12 feet 1 inch and a maximum reach of 20 feet 4 inches.
• Features a 39.4-horsepower Yanmar 4TNV88 engine
• Uses a load-sensing and load-independent flow division hydraulics system that is matched to the machine's size
• Turns within its tracks and uses an offset boom for use on constricted jobsites.
Visit EquipmentWorld.com/info
NO OVERHANG
The Mustang 2803ZT zero-tail-swing compact excavator features a longer undercarriage and optional counterweight.
• Has a side-mounted engine and rear-mounted hydraulic and fuel tanks
• Excavator's design eliminates overhang
• Can be transported by trailer.
Visit EquipmentWorld.com/info