By Amy Materson
FUEL SAVER
Prevent diesel fuel spills and contamination with Transcube's DOT-approved transportable fuel tanks, which are double walled and provide 110-percent secondary containment of the inner container's total capacity. The secondary containment system eliminates the need for a separate containment pan, and the tanks have no bottom or side exterior outlets that could cause spillage. The Transcube line offers tanks with 132, 264, 528 and 792 gallons, and can feed up to three generators and refuel equipment at the same time. Internal baffles prevent fuel surge during transport, ensuring reliability when transporting fuel to remote locations.
Visit EquipmentWorld.com/info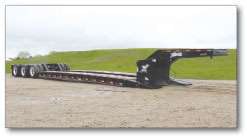 QUICK CONNECTION
Simplify attaching the gooseneck to the main deck with Felling Trailers' X-Force XF-110-3 HDG-L hydraulic detachable trailer. A pointed T-1 hook on the bottom of the gooseneck self-aligns into a shear-bolt-protected pocket on the front of the main deck. A spring-loaded T-1 bar lock automatically pops up to lock the gooseneck to the deck. The 55-ton-capacity trailer also features a tapered main deck frame design and a five-position quick-change load block. The X-Force is available in either a standard 24-inch deck height with 8 inches of ground clearance, or 19 ½-inch deck height with 6 inches of ground clearance.
Visit EquipmentWorld.com/info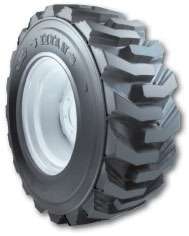 DIMINISH DAMAGE
Titan Tire's Ultimate line for skid steers has a high void-to-lug ratio to enhance traction, and an extra heavy sidewall and large rim guard to reduce damage. A specialty compound and extra deep tread offers a low cost per hour. The tire is available in two sizes – 10-16.6 and 12-16.5.
Visit EquipmentWorld.com/info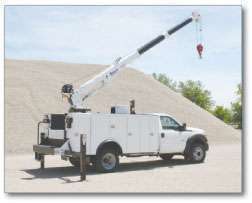 BIG BODIES
Accommodate cranes up to 70,000 foot-pounds with Stellar's TMAX Series mechanic crane bodies, which have a torsion box understructure to increase strength. Specifically designed for Stellar cranes equipped with the CDT control system, the bodies have a Torq-Isolator crane compartment, E-coat primer and 60-inch-high-by-22-inch-deep compartments. The TMAX Series enables the crane to lift up to 118 percent of normal capacity for a short period of time.
Visit EquipmentWorld.com/info
COMPATIBLE COMPRESSORS
Experience quick change-outs from one compressor to another with American Eagle's line of Plug-N-Play compressors, which includes 11-, 12- and 18-gpm models. The similar hydraulic flow, common mounting base plates and compatible hydraulic connections eliminate the time and expense needed for changing out PTOs and pumps. Six models of Plug-N-Play compressors are available.
Visit EquipmentWorld.com/info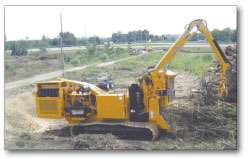 QUICK CHIPPING
Fill a 30-ton chip trailer in less than 15 minutes with Bandit's Model 3090 track chipper, which has a 30-by-30-inch chipper opening fronted by a diagonal dual-top feed wheel. A loader equipped with a 360-degree bypass grapple feeds the chipper, and engine options up to 630 horsepower are available. The 3090 has a spacious operator's cab with a rear entry door and two escape routes – an emergency escape door on the left and a pop-out escape window on the right. The cab also has heat and air conditioning, an AC/DC current, and joystick controls that operate all of the machines functions.
Visit EquipmentWorld.com/info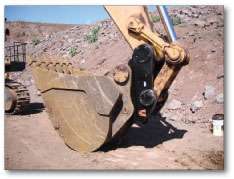 LOCK IT UP
Norco Attachments' Wedgelock quick coupler features the I-Lock, a back-up locking system that engages the front attachment pin without requiring a machine operator to activate the main locking mechanism. A built-in timeout re-engages the I-lock if the attachment is not removed after unlocking the coupler. The coupler is suitable for carriers from 5,000 to 200,000 pounds.
Visit EquipmentWorld.com/info
BLAST OFF
Perform sand blasting and pavement breaking applications with Kaeser's M64 Mobilair portable air compressor, which is also useful for general air tools. The M64's Sigma Profile rotary screw airend produces 225 cfm at 100 psi. The compressor's easy-to-read control panel has a push-to-load switch, and the soundproofed unit offers easy road handling. An anti-frost thermostatic control valve eliminates tool freeze-ups, and the unit's cooling system enables operation in 120-degree Fahrenheit ambient temperatures.
Visit EquipmentWorld.com/info