The Historical Construction Equipment Association's 2010 International Convention and Old Equipment Exposition will be at the Washington County fairgrounds in Richmond, Rhode Island, from Sept. 10 to 12. The show features demonstrations and displays of antiques like horse-drawn, gas and diesel-powered construction machinery.
It is open to the public, and hours are Friday from 8 a.m. to dark, Saturday from 8 a.m. to 5 p.m. and Sunday from 8 a.m. to 3 p.m. Admission is $5 for people 12 and older or $10 for a weekend pass.
HCEA's 2011 show will be July 8 through 10 near Rantoul, Illinois.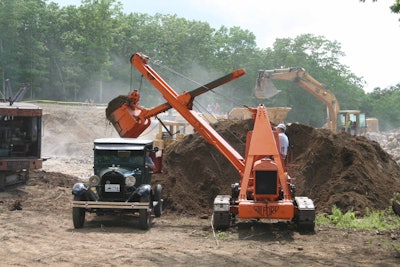 The HCEA also announced a membership drive for corporate and individual membership.
Contractors, dealers, producers and equipment manufacturers are invited to join as corporate members. Corporate members receive links on HCEA's Web site and are publicized in Equipment Echoes and press releases.
Corporate members designate up to five of their officers and employees to receive HCEA's quarterly magazine, Equipment Echoes, and VIP passes to International Convention and Old Equipment Exposition.
HCEA is a 501(c)3 non-profit organization dedicated to preserving the history of the construction, dredging and surface mining equipment industries. HCEA also operates the National Construction Equipment Museum and archives in Bowling Green, Ohio.
For more information, visit www.hcea.net.