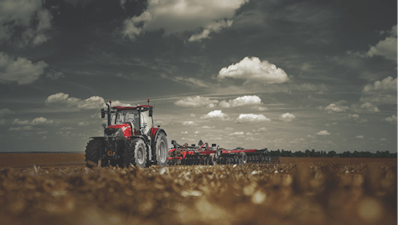 The Case IH Puma series lineup now includes the AFS Connect Puma tractor, as well as an addition to the short wheelbase Puma series tractor lineup: the Puma 175.
Existing Puma 185, 200, 220, 240 tractors — as well as the all-new high-horsepower Puma 260 — now come equipped with more power options, a revamped operator environment and AFS Connect technology for unparalleled data management, tracking and sharing across a range of machines. Meanwhile, the Puma 175 offers greater horsepower to efficiently complete a variety of tasks across tough applications.
Case IH says its engineers took every effort to ensure the AFS Connect Puma series tractor offers the gold standard in cab comfortability. A larger cab, more operator head and leg room, and greater visibility all contribute to an improved in-cab experience. Other improvements include a larger entryway with redesigned steps for easier entry and exit. Models equipped with a CVXDrive continuously variable transmission can also adjust optional hydraulic cab suspension from the upgraded AFS Pro 1200 display for the ultimate smooth and quiet in-cab experience.
The compant says efficiency updates include a larger, 124-gallon fuel tank for longer runtimes between fill-ups, new rear hydraulic remote valves with pressure release levers, updated right hand steps with an easy-open battery box, two integrated tool storage compartments, service and maintenance improvements, new lighting options and more. Multiple in-cab storage areas — as well as an optional cooled storage box — have also been added and updated, allowing operators to bring more bottles, snacks and other supplies during long days in the cab. A laminated windshield with an optional 240-degree sweep front wiper improve visibility, and climate control upgrades make in-cab cooling faster and more efficient.
The new AFS Connect Puma 260 tractor comes standard with a heavy-duty class 4.5 front axle and a heavy duty rear axle, increasing the GVW capacity to 31,950 lbs. and allowing for larger diameter (group 48) rear tires to help carry larger implements and get more power to the ground. This increased capacity is optional on Puma 220 and 240 tractors equipped with a CVXDrive continuously variable transmission as well.
With AFS Connect technology — which has been embedded directly into the cab of the AFS Connect Puma — operators can comfortably reach new levels of productivity and efficiency. Featuring three powerful in-cab system components, Case IH says this technology offers greater equipment visualization and agronomic data analysis than ever before:
The AFS Pro 1200 display features a large, 12.4-inch screen, additional camera feeds, easy Bluetooth pairing and remote display viewing capabilities that can be accessed at any time by a farm manager or trusted Case IH dealer.
The AFS Vision Pro operating system remains familiar and easy to use, allowing operators to customize and configure tractor settings according to their specific preferences. This includes seven programmable run screens and split screen viewing to create a sophisticated environment that puts operators in control.
The AFS Vector Pro receiver improves guidance and streamlines connection signals, ensuring the AFS Connect Puma performs efficiently and consistently.
Taken together, these system components create a formidable suite of tools that enable producers to more easily track, share and visualize equipment data, allowing for easier farm management and capitalization on previously unrealized efficiencies. And, with added Remote Display View, operators can rely on a trusted Case IH dealer to perform remote machine diagnostics in order to determine repair needs, suggest tactics and more, the company says.
The newest tractor to enter the Puma family, the Puma 260 redefines the meaning of a compact, high-power tractor. In addition to being fully equipped with AFS Connect for advanced data management and tracking, the Puma 260 features superior horsepower (260 hp, 300 peak) with axle, tire and transmission updates to support a rugged workhorse design. Cooling advancements ensure the Puma 260 consistently performs out in the field, while comfort improvements keep operators refreshed inside the cab, the company says.
In addition to Puma series tractors equipped with AFS Connect, the short wheelbase Puma lineup is expanding to include the new Puma 175 tractor. A dependable, powerful tractor, Case IH says the Puma 175 offers more horsepower (180 engine hp, 225 peak) and relies on an updated CVXDrive continuously variable transmission to grant extensive power while maintaining the excellent torque curve growers have come to expect. This new model includes the same quality-of-life improvements introduced previously with Model Year 2022 Puma series tractors: updated steps, an elastic hood closing rope, an enhanced armrest, a redesigned cab entry, upgraded interior space, new storage areas, a revised monitor bar and better air flow quality, the company says.
AFS Connect Puma 185, 200, 220, 240 and 260 tractors, as well as the new Puma 175 tractor, are now available.