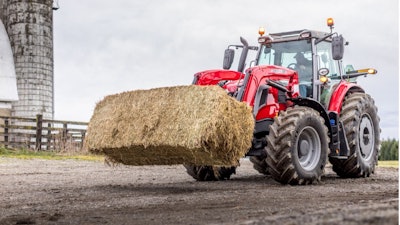 AGCO Corporation has announced a major expansion of its technician training program with Parkland College in Champaign, Ill. The college will construct a new state-of-the-art training center on its campus made possible by a $5 million donation from AGCO Corporation.
The facility will house a new AGCO Agriculture Service Technician Associate in Applied Science (A.A.S) degree program, providing students with instruction specific to AGCO-branded equipment and cutting-edge precision agriculture technologies such as those from Fendt and Massey Ferguson, as well as education in general ag concepts. The program will accept students sponsored by AGCO dealerships, with classes starting this fall leveraging existing space at Parkland College. Groundbreaking will occur in the summer of 2023 on the new 25,000-square-foot building that will permanently host the program.
AGCO's significant growth across North America has increased demand for technicians to service equipment from its popular brands. The two-year program will employ a work-based learning model to rotate students between classwork and fieldwork and award fully accredited associate degrees to successful participants. Students will also achieve AGCO certification for completion of Level 1, Level 2, and Level 3 curriculum on AGCO equipment. This certification includes the operation of AGCO equipment, basic troubleshooting, and application of technical service information. Students will also gain experience and knowledge on AGCO-based information systems, including service, warranty, and parts information.
"The AGCO Agriculture Service Technician A.A.S. degree program at Parkland is an exciting commitment that will help educate the technicians of tomorrow that our dealers and farmers need to keep feeding the world," says Seth Crawford, AGCO SVP and GM, Precision Ag and Digital. "Parkland College's longstanding reputation for excellence in agriculture education and diesel technology makes it a perfect location to train AGCO's future technicians."
"Parkland is pleased to grow its relationship with AGCO to meet the expanding need for skilled technicians to support agricultural equipment dealers and farmers," says Dr. Pamela Lau, Parkland College President. "Building on the success of our Midwest Center for Precision Agriculture and the expertise of our faculty, we look forward to expanding our training capabilities with this AGCO-specific program and facility. We commend AGCO leadership for their strategic vision and look forward to welcoming the next generation of technicians to campus this fall."
For more information about the AGCO Agriculture Service Technician A.A.S. degree program at Parkland College, go to Parkland.edu/AGCO or contact your local AGCO dealer.