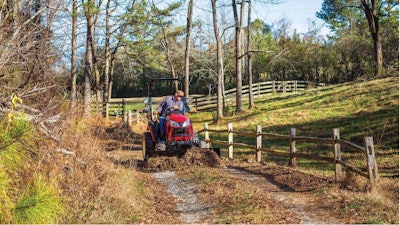 Yanmar America Corporation has announced a supply agreement with TYM Corporation to provide three models of Yanmar-branded tractors. The tractors will be launched in 2023 and available in the North American market.
The agreement builds upon the existing cooperation between Yanmar and TYM groups, where Yanmar supplies its TNV diesel engines to TYM for their range of sub compact and compact tractors.
"This partnership with TYM offers a broader portfolio of product solutions to meet customer needs," says Jeff Albright, president of Yanmar America. "Furthermore, it extends our relationship beyond our successful collaboration in the engine domain to grow our businesses in the rural lifestyle and farm sector."
"As we look towards expansion of our tractor lineup, we are excited at this opportunity to deliver a superior experience to our customers," says Jon Richardson, director, rural lifestyle division, Yanmar America. "These products will be designed and built with Yanmar diesel engines and customized to meet Yanmar's exacting specifications."
Both Yanmar America and TYM will continue to explore opportunities for differentiation and expansion of the product offerings to better accommodate the diversified customer needs in North America.