---
Editor's Note: This is part two of a two-part series on Komatsu's Smart Construction technology consultancy service. To read part one, which discusses the history of the service and how it relates to a similar version in Japan, click here.
---
Though Komatsu's Smart Construction service was introduced to U.S. customers as a way to provide at-the-ready on-site support for its semi-autonomous intelligent Machine Control excavators and bulldozers, the people that head up the service say the ambition and goal behind Smart Construction was always larger. They say that in the two years since its launch, Smart Construction has expanded to offer a full suite of services and consultation for the digital jobsite.
Chris Faulhaber, the Smart Construction business manager at Komatsu Equipment in Salt Lake City, says that his team of TSEs and Smart Construction consultants can perform jobsite training and jobsite setup in addition to creating 3D jobsite models.
"We have in-house 3D modeling services with two modelers on staff," Faulhaber says, adding that there is also a consultant on staff that is a trained application engineer through Komatsu America and Komatsu Limited. This consultant ensures that the right equipment and technology is in place on a given jobsite in order to deliver a project on time and under budget.
And those services just cover the jobsite and project data itself. Smart Construction also offers a fully featured drone consultancy service.
Faulhaber says that for customers who want to fly survey missions themselves, he recommends the DJI Phantom 4 Pro. "At $1,500 for the drone, a couple of extra batteries and a few other things, that's a relatively low risk investment," he says. "Typically when I tell customers that price point, they don't find the barrier to entry all that daunting anymore."
Using some free flight planning software and DJI's Ground Station Pro base station, Faulhaber says "piloting" a survey drone is mostly planning and then watching.
"From start to finish when we use that setup, the whole thing is automated," he says. "We put in the flight plan. We set the parameters of the plan. We send the drone up in the air. If it needs a battery replacement, we bring it back and put in the new battery. We resume the mission and then it flies and returns home when it's done. Then we take it apart."
"Everybody (new to drones) is excited to watch it go up in the air but it's pretty boring once it's up there because it's just flying its pattern."
For those customers that would rather not wade into the waters of drone ownership and pilot certification, Faulhaber and all of his Smart Construction consultants are certified drone pilots through the Federal Aviation Administration and are equipped to travel to customer jobsites and fly missions for them.
He says no matter the customer's experience or comfort level with drone-based site surveys, Smart Construction consultants can figure out a solution for quick and data-rich surveys.
Propeller partnership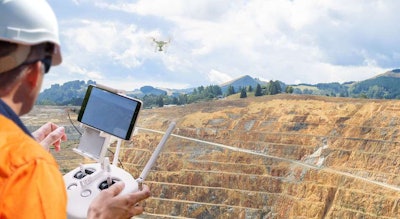 A big part of the appeal to Smart Construction's approach to drone sales is that flexibility, much of which is made possible through Komatsu's partnership with Propeller.
Propeller makes easy work of processing and analyzing the loads of images and data that drones capture during survey missions. Rather than requiring contractors to purchase photogrammetry software and do the processing manually, Propeller allows customers to upload their drone data and view the processed models and maps in one online dashboard.
And because all of the processing and storage is done in the cloud, Propeller and all customer models are easily accessible through any computer or tablet. The platform even lets users perform height, volume and slope calculations, as well as measure changes to confirm that a project is on track.
John Frost, vice president of business development at Propeller, says the platform delivers the same results regardless whether a contractor wants to do the flights his or herself or if they want Smart Construction consultants to do the flights for them.
"Contractors are busy. They have a lot of stuff on their plate," Frost says. "So, they just want answers. How much is in that pile? How much dirt have we moved?"
Propeller, he says, is designed to provide easy access to those answers.
"We've created a completely immersive 3D environment for the models and measurements," Frost says. "Our customers can create automated reports and they can also get things like monthly reconciliation stockpile reports."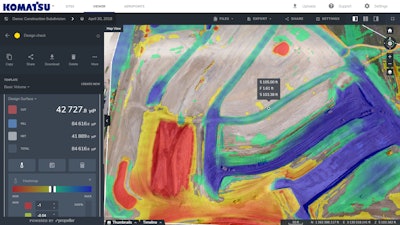 Faulhaber provided me with a 30-minute walkthrough of Propeller and I came away impressed. Once your drone data has been processed, the design of Propeller's model viewer, with its intuitive sliders and toggle controls, makes manipulating models and comparing changes fast and simple.
As an example, Faulhaber demonstrated how quickly you can jump into a survey model and create a cross-section for comparing grade over time. Inside a survey map of a subdivision under construction, Faulhaber drew a small line across a portion of what would be a road. With a couple of clicks he was able to generate a cross section of that portion of road that charted grade changes over the course of three drone flights, comparing them all to the design surface.
Another cool feature demonstrated during the walkthrough accounts for how photogrammetry processing sometimes stretches or 'melts' elements of the stitched images, making portions of a model hard to see. If there's a particular part of a model that you need a clearer view of, Propeller has a Photo View that allows you to select a portion of the model and compare it to the high resolution source image taken above that region.
"When we're able to provide that kind of survey data within a day and customers see how much value it adds and the accuracy that we provide customers get really excited," Faulhaber says.
The future of Smart Construction
Do these expansions and new capabilities mean the U.S. version of Smart Construction ever reach full parity with its Japanese counterpart? Will you one day be able to contract Komatsu America to perform site prep with a fleet of its semi-autonomous machines?
Probably not in the next few years. But based on my conversations with Faulhaber, Komatsu spokesman Raleigh Floyd, and Jason Anetsberger, senior product manager for intelligent machine controls and Smart Construction at Komatsu America, I would say there's a 50/50 chance of such a service launching in the U.S. at some point in the next 10 years.
Faulhaber told me that Komatsu launched full machine automation in Japan because that was what was needed there to accomplish the overall Smart Construction goal. The company says that as things stand, that type of fully-automated approach isn't necessary in the States. But with 80 percent of contractors reporting difficulty finding enough skilled labor to adequately respond to demand, it's not too difficult to imagine the U.S. construction market reaching a point in the next 10 years where such an automated service becomes a necessity.
"I would imagine that in the next five or 10 years as we continue to see some of our more veteran workforce deciding that they've had enough and retiring, and the younger workforce out of college looking for more white collar type jobs, we'll continue to see the increasing labor shortage that we've been seeing since the late 1990s," Faulhaber says.
"And that was the idea behind Smart Construction in general. We're now able to help fill that labor shortage gap by providing services that maybe the customer needs and they just can't find the right labor fit."
For now though the plan is to stay the steady course with the American version of Smart Construction, focusing more on fitting the service to each customer rather than jumping in feet first with full automation.
"Here in North America because some of these contractors that have long-running experience with GPS machine control technology, they have different capabilities," Anetsberger says. "Not all contractors in North America need everything Komatsu offers. But we're happy to fill in the gaps."
As Floyd notes, a lot of the change and evolution of Smart Construction in the North America will be dictated by what contractors here do with the service and knowledge it imparts.
"Ideally, when a customer starts to feel comfortable with the technology and they start to plug it into their business, they start to get creative. And so they come to us and say 'What if we did this?' They start brainstorming with us," Floyd says. "Where this is headed is they're using our technology to solve problems. That's the exciting piece to this. The technology enables people to do things they didn't know they could."
Anetsberger says the primary goal for Smart Construction in the next couple of years will be growth, spreading the service to more customers and more jobsites.
"I see it continuing to grow. We're going to always be looking for technologies, services and solutions that we can provide to the contractor to keep taking the jobsite to the next level," he says. "We want to find the current bottleneck, address it and move on to the next one. We see it as an evolving ever-growing package of individual components."