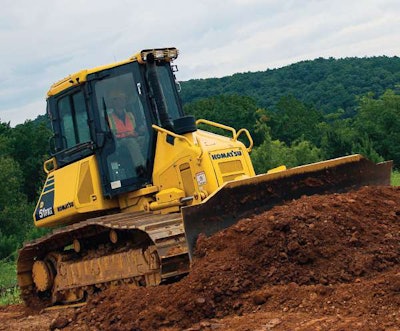 Editor's Note:This is the fourth in a four-part GPS/GNSS 101 series. To read more, click here.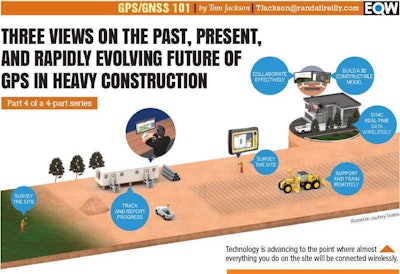 It's hard to believe, but the use of GPS in heavy construction is now more than 15 years old. Mike Momrow, survey manager for the Rifenburg Companies in Troy, New York, was present at its genesis, purchasing and fielding a GPS machine control system in 2000 from a company called Geologics.
"Unfortunately, they didn't stick around very long," Momrow says. But today, Rifenburg has about 60 rovers in the field and 30 to 35 machines running GPS applications, depending on the mix of jobs.
"Rifenburg doesn't use GPS, we run on GPS," says Momrow. "We use it for everything—for grade control in dirt, concrete paving, asphalt paving, motor graders, excavators—you name it, we use it." And they use both Topcon and Trimble products. "Different crews like different systems," he says.
The company's crews have also figured out how to use total stations in conjunction with GPS. Depending on the job, they may do the bulk earthmoving with a dozer and then set up a motor grader with a robotic total station to complete the finish grading.
Can't afford not to
Before GPS, every job had its own foreman, laborers and a survey crew, says Momrow. Today, one foreman can cover three or four dirt operations and the survey crews are almost non-existent. "That has enabled us to lower all of our bid prices, because we're cutting as many as three to five people out of each job," he says. "And the operators are no longer waiting for a grade check. They have real live grade checking, all the time…all day, every day."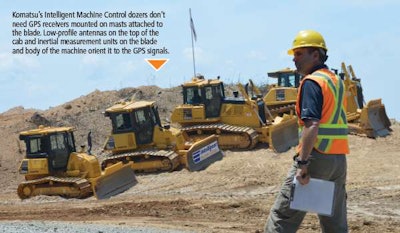 In addition to machine control in earthmoving, Rifenburg started using GPS technology for paving in 2004. By 2006, it was using GPS on its milling applications as well, Momrow says, and it is still one of the few companies in the country to have finessed this application.
Most recently, the company has invested in the latest GPS technology—the "mast-less" machine control dozers that use inertial measurement units (IMUs) mounted to the body of the machine, rather than antennae on the blades. It has purchased a Caterpillar D5K running Topcon's 3D-Max system, as well as several Komatsu D51i intelligent machine control dozers.
Momrow is bullish on the new, IMU-driven dozers, calling them the best grading dozers he's seen. But, he cautions contractors to make sure they're guaranteed good support in the field before purchasing these or any other technology systems.
The biggest challenge
While power users like Momrow continue to push the abilities of every new system, one significant headwind remains.
"We just don't have enough machine control or survey guys who can take the technology and run with it," Momrow says. "We're trying, but we can't find them. We need guys with real life, everyday experience out in the field. There is not a college in the United States that teaches machine control technology. You still have to learn that on the job."
The company uses downtime in the winter to run two and three day training classes. If they hire somebody new in the construction season, they'll spend a half day or so getting them familiar with the technology, and then come back for follow up and additional training a few weeks later.
Challenges aside, there is no excuse for not getting into GPS technology, Momrow says. "My advice: Don't wait. If you do, every day you're getting further behind."
The future is connected
One of the big trends on the horizon for GPS in construction is what Ed Shappell, director of technology services and solutions for Trimble civil division, calls BYOD, or "bring your own device."
"In the future, you won't need to buy a separate device other than your smart phone or tablet to work with your GPS," Shappell says. "That becomes your GPS position device, and you will be able to connect that to any machine you are working with and use it as the interface to everything else."
And while you're working with that device, you can communicate with a whole lot more than just the machine or the GPS satellites.
"Innovators today are starting to consolidate data from all assets, whereas in the past it was just the big machines," says Shappell. "We see customers today who are collecting GPS data from even their non-powered assets, such as machine attachments." Tagging smaller equipment with GPS-based telematics and giving all the employees the ability to find it on a single dashboard can prove to be a big time saver on large or complex jobsites.
Safety enhanced
Contractors are also starting to use GPS, geofencing, and other machine tracking applications to enhance the safety of their crews as well. "They can set up geofences for environmentally sensitive areas and potentially dangerous or hazardous areas," says Shappell. "That increases the amount of visibility that a foreman has into where the workers are and where the machines are."
And since all of this GPS generated information can be logged and recorded, supervisors and safety personnel can analyze it after the fact. "When you have both worker and machine data, you can start looking at breadcrumb trails," says Shappell. If you start noticing a path where your machines and workers intersect frequently, you may decide to redesign the jobsite, cordon off certain areas from foot traffic or make other changes.
M to M communication
The mining industry is already using what's known as 'M to M', or machine-to-machine communications, in autonomous mining trucks. Using GPS signals, each machine knows where the other machines are and will stop if a collision is eminent. Mine operators are also putting up geofences around grinders and stockpiles, anything that might pose a danger to the trucks, other machines or workers.
Machine autonomy is progressing slower in construction, primarily because construction sites have more workers, complexity and moving parts. In most off road applications, construction machines are set up to report their GPS location intermittently, every few minutes or in longer intervals. To get the full benefit of these safety features, the GPS tracking will have to be done in real time, Shappell says.
The emergence of the autonomous car will help drive a lot of this technology. Shappell envisions a scenario where autonomous cars can be networked into a grid that's also populated by the contractor's haul trucks. If the algorithm 'sees' that dump trucks are in route to a site, it can estimate traffic delays before they happen. It can then automatically reroute the autonomous cars while also simultaneously alerting the cars with drivers. "If a contractor can provide that kind of service for a DOT, that's a huge advantage," says Shappell. "That makes the DOT happy because it makes the public happy."
BIM brings new opportunities
A technology more familiar to building contractors, BIM (or Building Information Modeling), is also starting to migrate into the technology portfolios of earthmoving, sitework and civil engineering contractors. BIM is a process involving the generation and management of digital representations of built structures and utilities.
There are a lot advantages to looking at 3D models in the civil world, says Shappell. Contractors who use their GPS mapping capabilities to record the position of utilities and other structures on something like a highway project can turn this BIM data into dollars.
"In the past, mapping was done post-construction, and that's a lot more expensive and harder to do," Shappell says. "A contractor who captures accurate GPS information that's tied to a 3D model of the infrastructure can hand it off to the customer or use it post construction for maintenance and operations." This is especially true in PPP-type projects (Public Private Partnerships), where the contractor is often tasked with maintaining the infrastructure after construction is complete.
Not just dozers and graders
Conventional thinking sometimes pigeonholes GPS as a dozer/grader tool. But according to Murray Lodge, senior vice president and general manager of the Construction Business Unit at Topcon Positioning Group, plenty of contractors are finding creative and unconventional uses for it.
For example, take hammers and rock drilling. Lodge cites a contractor he visited recently who was cutting a utility trench 24 feet deep into rock; a brutal application and a job that averaged just 14 feet of forward progress a day. The superintendent used GPS positioning to pinpoint exactly where the hammer would start smashing through the rock and to accurately carve out the 1-to-5 slope needed for the trench. Why GPS?
"If you don't go wide enough and can't pull in your trench box, you're going to have to go back and hammer out another 6 inches of rock all the way up," says Lodge. That adds substantial costs, long delays and wear and tear on the machines. But, if you over-excavate a foot or so to be on the safe side, you're also spending additional money.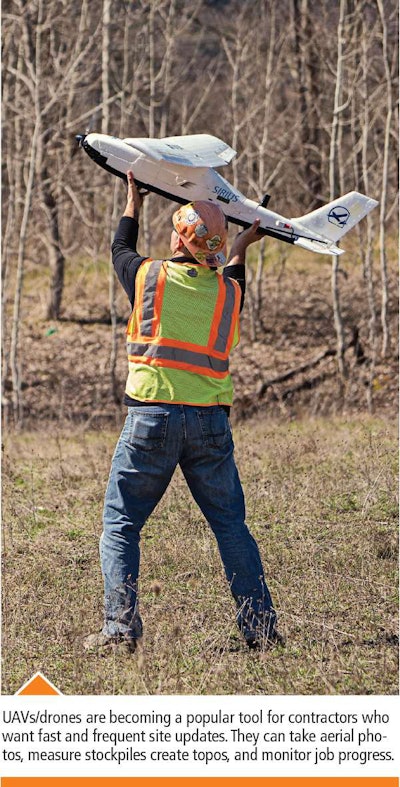 Initially there were concerns about the durability of the sensors on the excavator in hammering applications, says Lodge. But sensors today are incredibly rugged, and hold up in difficult environments. And even if a $1,000 sensor fails after six months, the productivity gains and cost savings in these applications would pay for it in a day or two. "The superintendent on this job says he wouldn't do the job again without GPS," Lodge says.
The big solar fields being built in the West require dozens of acres of solar panels all mounted on thousands of precisely positioned vertical posts set in holes created by rock drills, says Lodge. Rather than have a surveyor pound a stake for every hole, the drillers just create a digital GPS plan for the site and plug the information into a GPS-guided rock drill. The operator positions the tip of the drill over the bullseye on the in-cab screen, drills to the depth needed, and moves over to the next bullseye. Repeat, ad infinitum, all day long.
Excavator applications of GPS, both 2D and 3D, are also gaining new converts. Most excavator digging goes to a specific depth and slope. "So why not measure it with your GPS, especially when you don't need a surveyor or grade checker to do it," Murray says. In addition to removing only the dirt that needs to be moved, GPS excavation eliminates the need to fill in and recompact low spots that were over excavated. Footings, trenches, and other precise grades and profiles can be cut with little need for finish or fill work.
Lodge also predicts that drones, or UAVs (unmanned aerial vehicles), will play a big role in the construction site of the future. "I think in the next three to five years there won't be a single mid- to large-size contractor who is not using UAVs, whether they use a service or their own UAVs," he says. Tremendous progress has been made in harmonizing the kind of data drones collect with the kind of data contractors need to populate their software systems, and that trend will only continue to move forward, he says.
What forward thinking contractors are realizing, says Lodge, is that there are no fixed limits to what they can do with GPS. "In companies where the owners are empowering the employees to think outside the box, you start to see these new ideas coming from the operators, grade checkers and foremen," he says. "They have a different mindset and they're not stuck thinking they have to do things the way they've always been done. There are applications out there that people haven't even started thinking about yet."