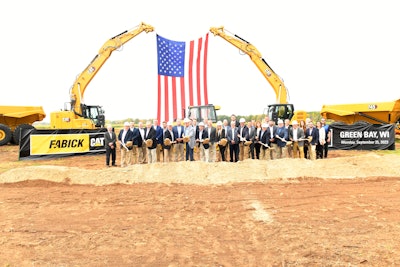 Fabick Cat
Fabick Cat broke ground September 25 on the site of its new 100,000-square-foot facility in Green Bay, Wisconsin.
Community leaders, Miron Construction Co. and Gries Architectural Group were present to celebrate the 23-acre development along Interstate 41 off Mid Valley Drive frontage road between Freedom Road (Highway S) and Little Rapids Road, near its longstanding establishment.
Boasting cutting-edge technology and modern infrastructure, the new building will enhance operational efficiency and serve as a catalyst for growth in Green Bay and the surrounding areas, the company said.
During the event, Todd Stanley, Senior Vice President and COO of Fabick Cat, stated, "Today, we extend our deepest gratitude to our Green Bay employees, past and present, whose dedication and hard work have played an integral role in Fabick Cat's success over the years. Because of you, we've reached this exciting moment – one that will be looked back on as having a profound impact on our company's history."
Jeré Fabick, Chairman, CEO and Dealer Principal of Fabick Cat, added, "As a multi-generational, family-owned business, we are committed to consistently exceeding customer expectations by delivering innovative solutions, providing the best value and being actively involved in the communities where we live and work. Our current Green Bay location has been serving this area for over 60 years. So, this groundbreaking ceremony marks a momentous time for Fabick Cat – it's not only our kickoff to expansion in Green Bay but it's a testament of our commitment to our customers, our employees and the community."
The new facility is slated to open in early 2025. In the meantime, the current Green Bay location will remain operational.
EquipmentShare Celebrates New $3.7M Grand Prairie, Texas Rental Facility
On October 3, EquipmentShare celebrated the opening of its new state-of-the-art rental facility located at 1717 W. Shady Grove Road in Grand Prairie, Texas.
"Texas has and will continue to be an important part of our business. Grand Prairie was the third location we opened in our company's history — so it's an extra special day to commemorate the new building but also to reaffirm our commitment to invest and grow right here in Texas," said CEO and co-founder Jabbok Schlacks.
The 15,953-square-foot Grand Prairie location includes 10 service bays with 10 large workstations, an equipment wash bay, a parts department and a 3,000-square-foot retail area. The new $3.7 million facility shares an equipment yard with the existing building located on Roy Orr Boulevard, which will now serve as the training center for onboarding new team members and an institutional learning hub for the company's continuing education initiatives.
EquipmentShare, founded in 2015, opened its doors in Grand Prairie that same year. The rental solutions provider currently has 22 facilities in Texas.
"This location is the first in a series with our company's new rental branch look and feel. We offer reliable tech-powered rentals to builders in this community and across the great state of Texas. When they walk into this space, we want them to experience right away that EquipmentShare is the place to go for the best equipment solutions on the planet," said Grand Prairie General Manager James Ferguson. "We also want our team members to be proud of their work home, and we believe this new space accomplishes that while offering plenty of room to grow for years to come."
Stone Equipment Company Named Kobelco Excavator Dealer
Kobelco Construction Machinery USA has named Stone Equipment Company as its official excavator dealer for Alabama. Stone has two locations in Birmingham and Montgomery.
"Kobelco works to partner with construction equipment dealers that have a deep knowledge of their local markets and have shown success in providing the high level of customer service that has long defined Kobelco Construction Machinery," the company said. "Stone Equipment certainly meets this objective with their knowledgeable team and customer focus. The combined quality of Kobelco excavators along with Stone Equipment's experience in providing customer solutions for the construction, aggregate, environmental, and demolition equipment markets are a great match."
Kobelco offers zero tail swing, compact, standard, long-reach, and demolition excavator models.
Benchmark Tool & Supply Partners with Unicontrol
Unicontrol, a Scandinavian-based 3D machine control technology provider, has announced a strategic partnership with North Carolina-based Benchmark Tool & Supply, Inc.
Eric Teague, CEO at Benchmark Tool & Supply, said, "Unicontrol is precisely what the underserved segment of our industry has been looking for – a cost-effective, user-friendly system with built-in flexibility that adapts to the local needs of the construction industry and complements our existing portfolio of end-to-end solutions. Furthermore, the integrated diagnostics tool taps into our proactive approach to customer service, monitoring and support."
Based in Raleigh, NC, with local offices on the East Coast and a growing eCommerce platform, Benchmark Tool & Supply will focus on customer service and training for an improved operator experience and return on investment from the customizable 3D machine control solution for compact machines.
MANUFACTURERS & SUPPLIERS
Kobelco Cranes GM Greg Ballweg Retires
Kobelco Construction Machinery USA has announced that Greg Ballweg, general manager of Kobelco Cranes, has retired after more than 35 years of service.
"For 35+ years, Greg dedicated an unwavering passion and expertise to our Kobelcofamily. Greg was one of the cornerstones on which the Kobelco brand was built, and he will be truly missed. We wish him nothing but the best on this next chapter in life, and he will always be considered part of Kobelco," the company said in a statement.
No details were provided on his departure date or replacement.