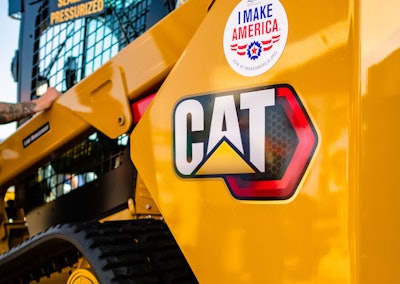 Caterpillar saw sales and revenues drop 8 percent during the fourth quarter of fiscal year 2019 on lower demand from customers than the company expected.
Though lead times on new machines have improved, falling dealer inventories are hurting the company's bottom line and are expected to continue doing so into 2020.
Fourth quarter sales fell to $13.1 billion from $14.3 billion during the same quarter of 2018. Profit per share, however, rose from $1.78 in 4Q 2018 to $1.97 in 4Q 2019.
Sales of construction equipment fell 12 percent during the 4Q to $5 billion as dealers decreased inventories. During 4Q 2018, Cat says dealer inventories were flat. The company notes that unfavorable price realization also hurt construction sales.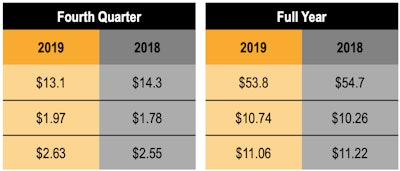 "In the fourth quarter, strong cost control more than offset lower-than-expected end-user demand," says Cat chairman and CEO Jim Umpleby. "Our margin performance reflected our diligent focus on maintaining a flexible and competitive cost structure."
Full year sales and revenues for 2019 fell 2 percent to $53.8 billion.
"While sales declined modestly in 2019, we delivered an operating margin and free cash flow consistent with our long-term targets and continued to invest in services and expanded offerings," says Umpleby. "The team's focus on executing our strategy for profitable growth also allowed us to increase our dividend by 20 percent and return more than $6 billion in capital to shareholders through dividends and share repurchases."
Profit for the full year was $10.74 per share, up from $10.26 per share in 2018.
Looking forward to 2020, Cat expects its difficulties to continue with further reductions in dealer inventories. The company anticipates a sizable fall in profit with a profit per share forecasted to fall somewhere in the range of $8.50 to $10 per share.
"We expect continued global economic uncertainty to pressure sales to users in 2020 and cause dealers to further reduce inventories," says Umpleby. "We have improved our lead times and remain prepared to respond quickly to any positive or negative changes in customer demand. We will continue to invest in services and expanded offerings to advance our strategy for long term profitable growth, while achieving our Investor Day targets."