With third quarter sales and revenues up 32 percent over the same quarter in 2017, Deere & Company pointed to agricultural customers replacing aging equipment fleets as a key contributor to the sales jump. President of Agricultural Solutions and the company's chief information officer, John May, also noted that the earnings report brought encouraging news for its precision ag business, which includes precision hardware and data management software, machine telematics, hands-free machine guidance, seed and chemical application rate management and field and water management.
May noted that Deere has seen higher take rates for these precision services, noting that the momentum behind this division "supports the growth of our precision ag strategy."
He also detailed a new precision ag feature, "expert alerts."
"These alerts provide predictive maintenance notifications to both the customer and the dealer, allowing farmers to avoid costly downtimes and enabling dealers to provide better service," May says.
Deere has 130,000 big farm production machines in the field that are connected to Deere and are streaming data to the company.
"We have the ability based on the data we receive and a set of advanced algorithms to predict failures before they happen, communicate the potential of a failure to the customer and to the dealer," May says.
"And then within minutes, the dealer could be on the phone with the customer, with the solution that's part of that expert's alert. Just to put it in perspective for you, if you look last year, we just launched the technology; we had machines streaming in over 11,000 alerts that they were predicting before machines had actually failed. That has a big impact on quality and a big impact on uptime for our customers."
Farmers continue quick adoption of technology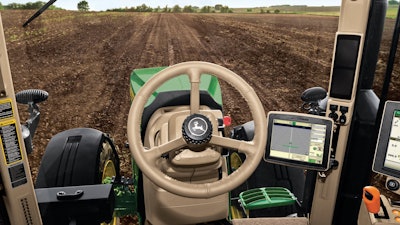 And though farm receipts are flat for 2018, farmers continue to show a strong willingness to invest in technology to help their bottom line.
"Recent precision hardware introductions demonstrated significant economic value to farming operations and, in some cases, already achieving take rates in excess of 50 percent," May says.
For example, 2018 was a record year in the adoption of Deere's automatic guidance system, AutoTrack, which delivers sub-inch accuracy and is available in 100 countries, May continues.
May also talked about the extent of collaboration available as farmers gather data from their yields, soil conditions and more.
"Additionally, the system, the most collaborative in the industry allows over 85 partnering companies to connect enabling farmers to collaborate with their trusted advisors," May says.
"On a rolling 12 basis in the U.S. and Canada alone, Deere has nearly 100 million engaged acres that are actively uploading data into our digital tools. Worldwide, we are seeing significant progress in engaged acres at an accelerated rate of adoption."
Research and development expenses were up about 23 percent in the third quarter, with more than half of that – 12 percent ­– of the increase relating to the acquisitions of Wirtgen for $5.2 billion and Blue River Technology for $305 million.
Last year, Deere bought Blue River, an integrated ag machine learning company, as its step towards using artificial intelligence as a core capability that will increasingly drive the basis for competition in ag equipment.
Deere is increasingly optimistic about precision technologies "as the inclusion of machine learning, computer vision and robotics holds potential to unlock billions of dollars and in agricultural value," May says.
As machines become capable of sensing conditions in the field, making decisions and executing the appropriate action, decision-making could eventually move from the field level down to the individual plant level, May says.