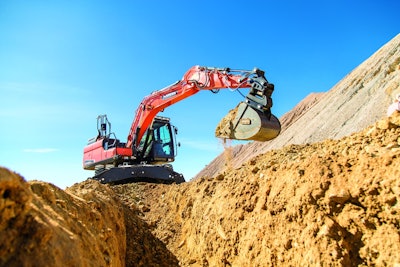 Doosan bought Bobcat in 2007, an interesting merger of Korea's top heavy equipment manufacturer, and America's well-known compact machine experts. And while the two are still part of the same umbrella company, Doosan, which operates under the name Doosan Infracore North America, is forging a new and separate business for itself with a new headquarters in Suwanee, Georgia, new management and marketing, and a revitalized strategy for the heavy side of things.
"We decided to isolate or separate the heavy business from Bobcat starting January 1, 2018," says Heejoon (Edward) Song, CEO of the new company. "After seven years of growing our business under Bobcat, we now believe we can do some things differently. Under the brand and platform we've built, we believe we can do more." Doosan will now report directly to Korea, says Song, and has dedicated almost 100 people to focusing solely on expanding the heavy business.
Goal: top five
Behind the new initiative is Doosan's desire to become one of the top five brands in North America in the next few years. When it purchased Bobcat, the company was 16th in global revenues but moved up to 9th in just four years. Last year it hit 6th. But in Europe, Doosan has six percent market share and in North America, just a little under three percent.
To boost those numbers, Doosan will "improve the capabilities of our existing channel," says Song. This will include new dealer and support programs, more training programs in Suwanee and more integration of its telematics program, Doosan Connect.
Direct communication
Song says having its own separate organization will allow Doosan to communicate better and faster with Korea. "Our people in Suwanee and Atlanta have a direct line to go to when they need support to take care of our customers."
Part of that communication is making sure Korea hears the voice of the customer. For Doosan, that's a customer who works in heavy-highway, civil engineering and quarry applications, as opposed to Bobcat customers, who are more likely to be working in landscaping, utility and smaller sitework applications.
Dealer shuffle
When Doosan bought Bobcat in 2007, the dealerships were completely separate. Since then approximately 30 have signed up to sell both brands. That will continue to be the case for these dealers, but the primary goal is to grow the Doosan-only network in the United States and Canada. The company is looking hard at expanding into markets it doesn't now serve including Salt Lake City, Pittsburgh, and Toronto.
In 2010, while Bobcat had more than 500 dealer locations, Doosan had about 128. But Doosan says it has been working to evolve and expand those businesses, says Todd Roecker, director of dealer management and marketing. That meant culling some dealers or locations from the herd. But the company has also added 117 new locations since then too. Doosan says it now has 86 dealers and 153 locations.
While nobody's ruling out Bobcat-only dealers from taking on Doosan products, many Bobcat dealers don't have the facilities to handle the larger Doosan equipment. Also, the customer bases for the two brands are substantially different, which poses some marketing challenges.
New plants, new machines
Parts availability is always a concern for contractors, and Doosan is in the process of developing a new, second parts depot at an as-yet undisclosed location. "By having two locations we should be able to reduce shipping costs by air by 70 percent and deliver 67 percent of our parts in less than two days," says Song.
Doosan is also studying the possibility of building an assembly plant or customization center in North America, Song says. This would reduce the wait time for customers who want something other than the standard machine. Currently, these requests are handled in Korea and the customized products shipped by sea to the states. Doosan will complete the assessment and planning for the assembly plant/customization center by the end of this year.
And while there are no firm commitments yet, the new Doosan Infracore North America is looking to expand its machine lineup. Song mentioned the possibility of some new excavators including a 16-ton excavator and 34-ton and bigger excavators as well as larger wheel loaders and articulated trucks.